BOARD OF EDUCATION
Duties of the Anne Arundel County Board of Education began with the State School Fund Commissioners, the County School Commissioners, the Commissioners of Primary Schools, and the Board of County School Commissioners.

State School Fund Commissioners. The General Assembly, in 1816, appointed nine commissioners to oversee the State school fund in each county (Chapter 256, Acts of 1816). The commissioners were to "establish a central free school in each election district" and report back to the General Assembly on how funds were used. It is not clear in the 1816 law if the word "free" refers to the classical curriculum described in 1696 or lack of tuition.

By 1818, monies entrusted to Anne Arundel County's Trustees for the Education of Poor Children were returned to the Levy Court to be overseen by the commissioners of the State school fund (Chapter 200, Acts of 1818).

County School Commissioners. In 1825, a statewide public education system was formed (Chapter 162, Acts of 1825). The justices of the levy courts in each county appointed nine school commissioners who were to divide the county into school districts. The levy courts also appointed up to eighteen inspectors of primary schools for each county. The inspectors were to examine teachers, issue teacher certificates, visit schools, give suggestions to teachers and school trustees, and report to school commissioners. Elected by the voters of each school district, three trustees were to purchase schoolhouse sites, repair and furnish the schoolhouses, and hire all teachers within the district. Authorized to keep records of school commissioner meetings, a district clerk was elected by the voters annually. A district collector collected monies from school taxes.

Commissioners of Primary Schools. In Anne Arundel County, the School Commissioners appointed by the Levy Court were named Commissioners of Primary Schools in 1827 (Chapter 173, Acts of 1827). The Commissioners distributed the primary school fund to school district trustees. Trustees used the funds to purchase school sites, erect school buildings, and hire teachers. The trustees were to report to the Commissioners, who, in turn, were to report to the General Assembly.

In each Anne Arundel County school district, white, male citizens over the age of 21 were given power to vote on the establishment of schools by 1829 (Chapter 146, Acts of 1829). This was an early attempt to allow citizens representation in the public school system.

In 1840, the West River Academy was established in Owensville, Anne Arundel County (Chapter 10, Acts of 1840 Special Session). Authorized to hold property and create regulations for the Academy, Doctor Martin Fenwick, Henry A. Hall, Alexander I. Murray, John G. Rogers, Sprigg Harwood, Henry Owens, and Francis Bird were named Trustees of the West River Academy.

For the purpose of funding primary schools in Anne Arundel County, additional taxes were levied by 1853 (Chapter 255, Acts of 1853). Levying taxes for further funding of primary schools reoccurred frequently in Anne Arundel County.

Board of County School Commissioners. In 1865, the State Board of Education called for a "uniform system of Free Public Schools" (Chapter 160, Acts of 1865). The public school system became centralized; "supervision and control of Public Instruction" was vested in the State Board of Education. The State Board appointed boards of county school commissioners in each county to serve four-year terms. Three years later, boards of county school commissioners regained control and supervision over county schools (Chapter 407, Acts of 1868). The public school system was no longer accountable to the State Board of Education. Within each county, voters elected county school commissioners, from each election district, to two-year terms. These school commissioners had custody over schoolhouse property and were expected to pay teacher salaries.

For all counties, including Anne Arundel, the school commissioners reorganized in 1870 (Chapter 311, Acts of 1870). County circuit court judges were to appoint three school commissioners for their respective counties. At the same time, the Board of State School Commissioners, previously named the State Board of Education, was reformed.

In 1892, the Governor gained authority to appoint county school commissioners (Chapter 341, Acts of 1892). That year, three school commissioners were appointed for Anne Arundel County to serve six-year terms. By 1900, the Governor was to take into consideration minority party representation when appointing county school commissioners (Chapter 29, Acts of 1900).

In Annapolis, a public school building was authorized to be erected in 1894 (Chapter 620, Acts of 1894). A building committee appointed by the General Assembly purchased the school house site, developed building plans, and hired an architect for the building. Also in Annapolis, a high school was to be built in 1898.

The Visitors of the Anne Arundel County Free School were authorized to sell most School property in order to fund the building of a new schoolhouse in 1910 (Chapter 577, Acts of 1910). The new schoolhouse was to be constructed on two acres of the original property; however, those two acres later were sold as well.
---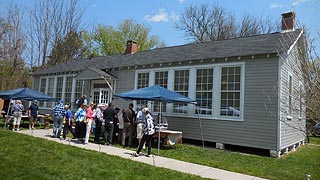 Public School Building Commission. The Anne Arundel County Public School Building Commission was created in 1920 (