MARYLAND LEGISLATIVE LATINO CAUCUS
---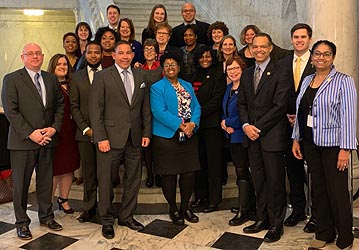 EXECUTIVE BOARD
Elected by Caucus in Dec. to 1-year terms:
David Fraser-Hidalgo, Chair
Joseline A. Pena-Melnyk, Vice-Chair
Jesse T. Pippy Secretary
Gabriel Acevero, Treasurer
Terms expire 2022.


Maryland Legislative Latino Caucus, State House, Annapolis, Maryland, March 2019. Photo courtesy of Maryland Legislative Latino Caucus.

---
LEGISLATIVE REVIEW COMMITTEE
Gabriel Acevero, Chair
Malcolm L. Augustine; Julie Palakovich Carr; Diana M. Fennell; Wanika B. Fisher; Robbyn T. Lewis; Vaughn M. Stewart.
SENATE MEMBERS
Malcolm L. Augustine
Pamela G. Beidle
Jill P. Carter
Guy J. Guzzone
Shelly L. Hettleman
Cheryl C. Kagan
Benjamin F. Kramer
Susan C. Lee
James C. Rosapepe
William C. Smith, Jr.
Jeffrey D. Waldstreicher
Mary L. Washington
Karen Lewis Young
Craig J. Zucker

HOUSE MEMBERS
Heather Bagnall
Benjamin S. Barnes
J. Sandy Bartlett
Regina T. Boyce
Julie Palakovich Carr
Lorig Charkoudian
Charlotte Crutchfield
Bonnie L. Cullison
Jessica M. Feldmark
Diana M. Fennell
Linda K. Foley
Catherine M. Forbes
Anne Healey
Shaneka T. Henson
Terri L. Hill
R. Julian Ivey
Dana C. Jones
Ariana B. Kelly
Kenneth P. Kerr
Marc A. Korman
Mary A. Lehman
Jazz M. Lewis
Robbyn T. Lewis
Lesley J. Lopez
Sara N. Love
David Moon
Palmes E. Queen
Lily Qi
Michael J. Rogers
Sheila S. Ruth
Emily K. Shetty
Stephanie M. Smith
Jared Solomon
Vaughn M. Stewart
Jennifer R. Terrasa
Alonzo T. Washington
Melissa R. Wells
Nicole A. Williams

Madelin S. Martinez, Executive Director
Lowe House Office Building, Room 200
6 Bladen St., Annapolis, MD 21401
(410) 841-3374, (301) 858-3374; 1-800-492-7122, ext. 3374 (toll free)
e-mail: latino.caucus@house.state.md.us
fax: (410) 841-3342, (301) 858-3342
web: https://mdlatinocaucus.org/
Created in December 2014, the Maryland Legislative Latino Caucus serves as a forum for members of the General Assembly to identify and confront key issues affecting Latinos. Through activism, outreach, and community engagement, the Caucus aims to be a strong voice for Latinos, and to improve the lives of all Marylanders.
---
Search the Manual
e-mail: mdmanual@maryland.gov
© Copyright January 13, 2023 Maryland State Archives