---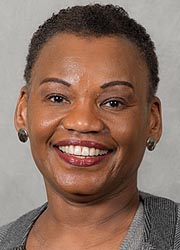 PAMELA E. QUEEN, Ph.D.
Democrat, District 14, Montgomery County
---
Member of House of Delegates since February 26, 2016. Member, Economic Matters Committee, 2019- (business regulation subcommittee, 2019-; public utilities subcommittee, 2019-22; chair, banking, consumer protection & commercial law subcommittee, 2020-; joint electric universal service program work group, 2020-). Co-Chair, Study Group on Economic Stability, 2019-. Member, Judiciary Committee, 2016-18 (criminal justice subcommittee, 2017-18); Joint Electric Universal Service Program Work Group, 2020-22. Vice-Chair, Metro Washington Area Committee, Montgomery County Delegation, 2017-. Member, Legislative Black Caucus of Maryland, 2016- (financial secretary, 2016-18; treasurer, 2018-19). Treasurer, Women Legislators of Maryland, 2021- (member, 2016-). Member, Maryland Legislative Latino Caucus, 2021-.

Born in New York, New York, 1960. Tuskegee University, B.S. (mathematics), 1983; The Johns Hopkins University, M.S. (computer science), M.S. (management); George Washington University, Ph.D. (finance), 2010. Assistant Professor (accounting & finance), Morgan State University, 2010-. Member, Western Finance Association, 2010-; American Accounting Association, 2012-; Financial Management Association; American Association of Blacks in Higher Education; Women in Maryland Higher Education. Member, Montgomery County Democratic Central Committee, 2010-16 (forum member); District 14 Democratic Club; African-American Democratic Club of Montgomery County; Women's Democratic Club of Montgomery County. Member, League of Women Voters of Montgomery County; Patuxent River Chapter, The Links, Inc.; Montgomery County Section, National Council of Negro Women, Inc.; National Association for the Advancement of Colored People (NAACP). Member, Xi Sigma Omega Chapter, Alpha Kappa Alpha Sorority. Member, Beta Gamma Sigma International Honor Society (business); Golden Key International Honour Society. Legislative Champion Award, Women Legislators of Maryland, 2018.
---
Search the Manual
e-mail: mdmanual@maryland.gov
© Copyright May 03, 2023 Maryland State Archives