---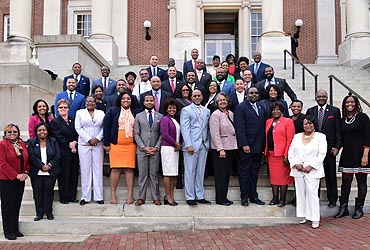 Ufuoma Agarin, Executive Director

House Office Building, Room 300
6 Bladen St., Annapolis, MD 21401
(410) 841-3185, (301) 858-3185; fax: (410) 841-3175, (301) 858-3175
e-mail: black.caucus@house.state.md.us
web: https://marylandblackcaucus.org/


Legislative Black Caucus of Maryland, State House, Annapolis, Maryland, March 2019. Photo courtesy of Legislative Black Caucus of Maryland.

---
The Legislative Black Caucus of Maryland was created in 1970 as the Maryland Legislative Black Caucus, and adopted its present name in 2002.

By drafting and sponsoring legislation to address constituent needs and by examining all bills that affect the black populace, the Caucus acts as a legislative body on behalf of the black community. The Caucus also presents a black perspective to the Legislature and advocates public policies that promote black progress. In addition, the Caucus serves as a research study group to generate pertinent data in support of appropriate public policies.
---
Search the Manual
e-mail: mdmanual@maryland.gov