SPORTS
---
Special Olympics Maryland
Sailboats & motorboats, St. Michaels (Talbot County), Maryland, August 2016. Photo by Diane F. Evartt.

---
Maryland's Chesapeake Bay and its tributaries provide the locale for certain sports, such as sailing, swimming, and in more recent times dragon boating. Indeed, even the East Coast Kinetic Sculpture Race, held in Baltimore each May, requires that the competing, totally human-powered, works of art, be designed to travel on land, through mud, and over deep Harbor waters at Canton Waterfront Park.


Dragon boat races, Locust Point, Baltimore, Maryland, June 2019. Photo by Diane F. Evartt.

---
Several professional sports teams, including the Baltimore Orioles (baseball) and the Baltimore Ravens (football) are based in Maryland and afforded large sporting facilities. Also, more than a dozen nationally competitive college-level sports teams are found here.


Horses, Pasadena, Maryland, May 2011. Photo by Diane F. Evartt.

---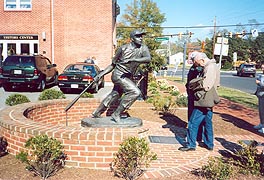 William (Swish) Nicholson statue, North Cross St., Chestertown, Maryland, October 2006. Photo by Diane F. Evartt.
Born in Chestertown, Maryland, William (Swish) Nicholson (1914-1996) became a star batter for the Chicago Cubs and Philadelphia Phillies.

---
Hockey
Marlborough Hunt Races sign, Roedown Farm, Davidsonville, Maryland, April 2009. Photo by Elizabeth W. Newell.
---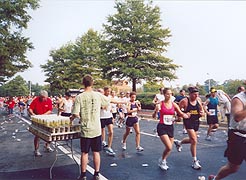 Annapolis Striders' 10-Mile Run, Rowe Blvd., Annapolis, Maryland, August 2006. Photo by Diane F. Evartt.

---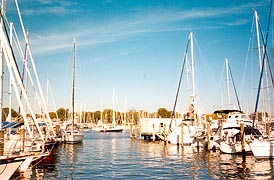 Soccer
Sailboats, Back Creek, Annapolis, Maryland, October 2008. Photo by Diane F. Evartt.

---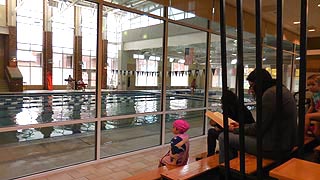 Wellness & Aquatics Center (Building D), Leonardtown Campus, College of Southern Maryland, Hollywood Road, Leonardtown, Maryland, November 2017. Photo by Diane F. Evartt.

---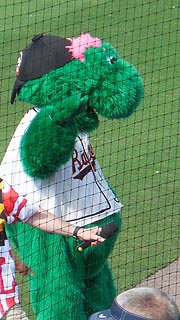 Sport enthusiasts use local paths, such as the Baltimore and Annapolis (B & A) Trail Park, to hike, jog, cycle, and rollerblade. The "B & A" Trail, a 13.3-mile long path in Anne Arundel County, runs from Glen Burnie in the North to the north shore of the Severn River in Annapolis. It is a section of the East Coast Greenway that stretches 2,600 miles from Key West, Florida, to Calais, Maine.

A new facet to Marylandís sport scene is the Baltimore Grand Prix. Held in downtown Baltimore, the race features Indy cars reaching speeds up to 185mph on the track, which encircles the Baltimore Convention Center, and loops from the Inner Harbor to M&T Bank Stadium. Though five annual races were planned, the 2014 and 2015 races have been canceled due to scheduling conflicts. The first race was held September 4, 2011 and the last on September 1, 2013.

Perhaps best known for the Terps (Terrapins) basketball team, the University of Maryland athletics program organizes many sporting teams. At College Park, the University operates Maryland Stadium (48,000-person capacity) and Comcast Center, a 17,000 seat basketball facility opened in Fall 2002.

Louie, Bowie Baysox mascot, Prince George's Stadium, Bowie, Maryland, April 2017. Photo by Diane F. Evartt.

---
Certain sports stadiums and other large facilities in the State are the concern of the Maryland Stadium Authority.
---
Search the Manual
e-mail: mdmanual@maryland.gov
© Copyright March 11, 2022 Maryland State Archives