SWIMMING
---
Swimming in Maryland gained worldwide attention in August 2008, when Michael Phelps won eight gold medals at the 2008 Summer Olympics in Beijing, China.

In London, at the 2012 Summer Olympics, Marylander Michael Phelps became the most decorated athlete in the history of the modern Olympic Games. At that time, he won his 18th Olympic gold medal, which also was his 22nd career Olympic medal.

At the 2016 Summer Olympics in Rio de Janeiro, Maryland swimmers Michael Phelps of Baltimore County and Katie Ledecky of Bethesda each won gold medals. Phelps won his 23rd Olympic gold medal, bringing his total Olympic medal count to 28. Ledecky set two new world records in 400-meter freestyle and 800-meter freestyle and won four Olympic gold medals.

Swimming pool, Reisterstown, Maryland, September 2009. Photo by Diane F. Evartt.

---
Born in Baltimore, Maryland, in 1985, Phelps began swimming at age seven. Except for four years at the University of Michigan, his swim training has been at the North Baltimore Aquatic Club, where his fellow Olympian, Allison Schmitt also trains.

In the 2004 Summer Olympics in Athens, Greece, Phelps won his first six gold medals as well as two bronze, in butterfly, freestyle relay, and individual medley.

Olympic swiming athletes from Maryland also include Brad Schumacher (born in Bowie), Beth Botsford and Allison Schmitt of Baltimore, and Katie Ledecky of Timonium. Schumacher and Botsford each won two gold medals at the 1996 Atlanta games. Schmitt won a bronze medal at the 2008 Beijing Olympics, and three gold medals at the 2012 London competitions. Ledecky won her gold medal at the 2012 London competitions.
---
Throughout Maryland, swim clubs provide opportunities for competitive swimming to Marylanders of all ages. Competitive swimming is organized through Maryland Swimming.
Besides swimming pools, Maryland offers many opportunities for recreational swimming. Sixteen State Parks have swimming areas.

Edward T. Hall Aquatic Center, 130 Auto Drive, Prince Frederick (Calvert County), Maryland, July 2014. Photo by Diane F. Evartt.

---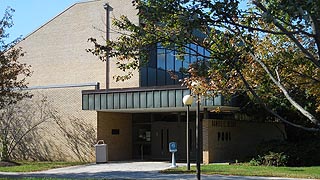 Swimming from ocean or Bay beaches is affected by the condition of both the waters and the beaches. Information about water quality can be found at: http://waterdata.usgs.gov/md/nwis/current/?type=quality. Moreover, the Department of the Environment administers Maryland's Healthy Beaches Program and the U.S. Environmental Protection Agency monitors beach health through its BEACON (Beach Advisory and Closing Online Notification) database.


Daniel C. Olson Pool, Anne Arundel Community College, Arnold, Maryland, October 2015. Photo by Diane F. Evartt.

---
Held annually in June since 1982, the Great Chesapeake Bay Swim is 4.4 miles from Sandy Point State Park in Anne Arundel County to Kent Island on the Eastern Shore. Limited to 600 swimmers, the Swim is held on the second Sunday in June. The Swim next will be held on June 10, 2018.
---
© Copyright May 16, 2018 Maryland State Archives