JOUSTING
---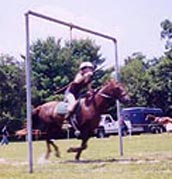 Annual Maryland State Jousting Championship, Anne Arundel County Fairgrounds, Crownsville, Maryland, Oct. 2023. Sponsored since 1950 by Maryland Jousting Tournament Association.
Annual National Jousting Championship Tournament, Petersville Farmers Woods, Brunswick, Maryland, Oct. 2023
Maryland Jousting Tournament Association Schedule

Jousters at St. Margaret's, Annapolis, Maryland, July 2005. Photos by Diane F. Evartt.

---
Jousting became the official sport of Maryland in 1962 (Chapter 134, Acts of 1962; Code General Provisions Article, sec. 7-329(a)). Maryland was the first state to adopt an official sport.

Jousting, the world's oldest equestrian sport, developed in the Middle Ages as combat training for the cavalry. Two armored combatants on horseback charged at each other in an attempt to break the lance on their opponent's armor or knock him off his horse. Eventually losing its military connection, jousting became a very popular sport, and tournaments were held in which knights, noblemen, and even kings competed.

Jousting tournaments have been held in Maryland since early colonial times but became increasingly popular after the Civil War. Retaining the pageantry and customs of medieval tournaments, modern competitors are called "knights" or "maids", and many dress in colorful costumes. Men, women and children compete equally with skill and horsemanship determining the class.

---
Tournaments conducted in Maryland are "ring tournaments" which involve charging a horse at full-gallop through an 80-yard course toward suspended rings. Using a long, fine-tipped lance, the rider has 8 seconds to complete the course and "spear" the rings, scoring points accordingly. From three equally-spaced arches, rings are hung 6 feet 9 inches above the ground and range in diameter from one-quarter inch to nearly two inches depending upon the skill-level of the contestant. A family sport, jousting skills frequently are passed from one generation to the next.


Jouster at St. Margaret's, Annapolis, Maryland, July 2005. Photo by Diane F. Evartt.

---
Aside from the Maryland Jousting Tournament Association, there are several other groups involved with jousting throughout Maryland, including the Amateur Jousting Club of Maryland, based at Jerusalem Mill Village in Harford County, the Eastern Shore Jousting Association
, the Tynewydd Riding Club in Saint Leonard, Calvert County, and the Western Maryland Jousting Club.

Today, jousting competitions are held from May through October in Maryland.
LACROSSE
Effective October 1, 2004, Lacrosse became the official team sport of Maryland (Chapter 272, Acts of 2004; Code General Provisions Article, sec. 7-329(b)).
---
Known as the oldest sport in North America, lacrosse was played by native American tribes probably for centuries before the first account of it was written in 1636 by a French Jesuit missionary in Canada. Among native Americans, lacrosse was played by tribes throughout the Great Lakes region, and in what is now the southeastern United States, and all along the East Coast, a range which encompasses Maryland.

Lacrosse players, University of Maryland vs. The Johns Hopkins University, Baltimore, April 2002. Photo by Rob Brown.

---
Since 1995, lacrosse has grown rapidly as a club sport and at middle- and high-school levels in Maryland.

Lacrosse is a fast-paced game played on a field in which the ten players on each team attempt to get a small ball into their opponent's goal while keeping it out of their own goal. A team consists of a goalie, three attackers, three midfielders, and three defenders. A long-handled stick with a net pocket on the end is used to throw, catch, and scoop the ball. From the stick, the game derives its name. To early French Canadians, the stick resembled a bishop's crosier, la Crosse.

In the United States, lacrosse became popular on college campuses in the late 1800s, beginning with New York University in 1877. The University of Maryland fielded its first team in 1910. In 1926, the first women's lacrosse team in the country was established at the Bryn Mawr School in Baltimore. Lacrosse made its Olympic debut in 1904, with The Johns Hopkins University team representing the United States at the summer games in 1928 and 1932. That school has remained a lacrosse power-house, ranked number one in the postseason coaches poll in 2002, 2003, and 2004. The Johns Hopkins University's Blue Jays defeated Duke University's Blue Devils to win the National Collegiate Athletic Association (NCAA) Division I Men's Lacrosse championship on May 30, 2005 and May 28, 2007. Played at M & T Bank Stadium in Baltimore, the victory gave the Blue Jays a ninth national title.

Other Maryland teams have performed well. The U.S. Naval Academy in Annapolis won its eighth consecutive intercollegiate title in 1967, and, in 2005, ranked fifth in the nation, behind Johns Hopkins, Duke, Georgetown, and University of Virginia. Between 1995 and 2001, the University of Maryland women's team won seven consecutive titles, and, in 2019, the team won its fourteenth National Collegiate Athletic Association (NCAA) championship. The University of Maryland men's team won their third NCAA championship in 2017. The Loyola University Maryland's Greyhounds defeated the University of Maryland, College Park's Terps to win the NCAA Division I Men's Lacrosse championship in 2012.

The Chesapeake Bayhawks debuted in the Nationals Division of Major League Lacrosse in June 2001 as the Baltimore Bayhawks. During a restructuring of the League in March 2010, the team relocated to Annapolis as the Chesapeake Bayhawks and played at the Navy-Marine Corps Memorial Stadium. When the Premier Lacrosse League merged with Major League Lacrosse in December 2020, the Chesapeake Bayhawks stopped playing.

Maryland not only wins, but also hosts competitive lacrosse events. From June 23 to July 2, 2005, Annapolis, Maryland, hosted the World Cup, International Federation of Women's Lacrosse Associations. The National Collegiate Athletic Association (NCAA) men's lacrosse championship match was played at M&T Bank Stadium, Baltimore, on May 28, 2011 and returned May 24-26, 2014. The USA Lacrosse National Tournament was held in Bel Air May 28-29, 2022, while the Premier Lacrosse League played four games at Johns Hopkins' Homewood Field in Baltimore June 24-25, 2022. In addition, the World Lacrosse Women's World Championship was held in Towson from June 29 to July 9, 2022.

In 2003, 2009-2011, 2015-2018, and 2022, Baltimore hosted US Lacrosse's National Convention. Open to US Lacrosse member coaches, officials, and administrators, the Convention offers field demonstrations, and educational clinics and sessions.

Maryland is home to the Lacrosse National Hall of Fame and Museum. Formerly located at The Johns Hopkins University in Baltimore City, the Museum moved to Sparks (Baltimore County) in 2016.
---
Search the Manual
e-mail: mdmanual@maryland.gov
© Copyright December 22, 2022 Maryland State Archives