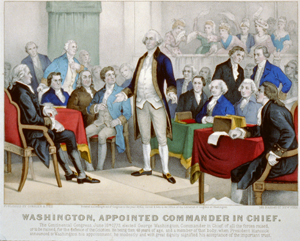 "A high Honor"A Wise Choice

In June 1775, while Congress met in Philadelphia, there was an urgent question of who would lead the army against the British forces threatening Boston. George Washington's military experience in the French and Indian War and his influence as a Virginia delegate, made him appealing as someone who could unite the colonies. Thomas Johnson, Jr. of Maryland nominated Washington, who was elected unanimously. In accepting his military command, Washington said: "I am truly sensible of the high Honor done me in this Appointment."
Congress's choice of Washington proved to be a wise one. Eight years later, he resigned his commission to Congress, having led the American forces to victory and independence from Britain.