---
ANATOMY
Anatomy is the study of the form and function of living organisms, including humans.

Established in 1807, the University of Maryland School of Medicine is the first public medical school in the country. It was the first school that included anatomical dissection as part of its curriculum, as well as the first to open a children's clinic and a hospital to train residents.

The State Anatomy Board, organized in 1949, ensures that bodies left to science are distributed equally among hospitals, schools, and other medical institutions.

Davidge Hall, School of Medicine, University of Maryland, 522 West Lombard St., Baltimore, Maryland, September 2018. Photo by Diane F. Evartt.

---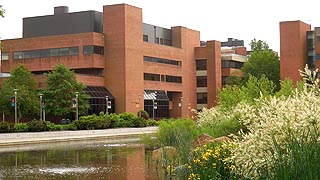 CHEMISTRY
Chemistry is the study of organic and inorganic elements and their interactions.

The Maryland State Chemist Section, in operation since 1833, regulates sales of pesticides, pet foods, and fertilizers. The Section also provides chemical analysis and testing.

Within the Maryland Department of Health, the Environmental Sciences Division of the Laboratories Administration analyzes samples, including drinking water, foods, soils, and building materials, to detect any harmful materials, such as hazardous waste or asbestos.

Robert & Jane Meyerhoff Chemistry Building, University of Maryland Baltimore County, Catonsville, Maryland, May 2019. Photo by Diane F. Evartt.

---
GENETICS
Genetics is the study of genes and heredity.

The Division of Human Genetics at the University of Maryland Medical Center provides services to patients, including evaluation, DNA testing, laboratory analysis, and genetic evaluation.


University of Maryland Medical Center, 22 South Greene St., Baltimore, Maryland, December 2000. Photo by Diane F. Evartt.

---
The