---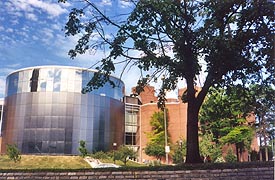 The Maryland Academy of Sciences, forerunner of the Maryland Science Center, formed in Baltimore in 1797, making it one of the oldest science institutions in the country.
Maryland Science Center, 601 Light St., Baltimore, Maryland, June 2006. Photo by Diane F. Evartt.

---
Opened in 1814, the Peale Museum, in Baltimore, was the first museum building in the nation. Under Rembrandt Peale, the museum exhibited, among other objects, a variety of scientific items, including botanical, biological and archeological specimens. One of these was a mastodon skeleton, the exhumation of which was painted by Charles Wilson Peale.


Peale Museum & Kurt L. Schmoke Conference Center, 225 North Holliday St., Baltimore, Maryland, Septmber 2008. Photo by Diane F. Evartt.

---
In Maryland, the formal study of geology originated with the first State Geological Survey, which began work in 1834. Its historical evolution led to the Maryland Geological Survey, which functions today within the Department of Natural Resources.




Maryland Geological Survey, Kenneth N. Weaver Building, 2300 St. Paul St., Baltimore, Maryland, April 2007. Photo by Diane F. Evartt.

---
Today, knowledge is pursued through science at Maryland's universities and colleges, including the University of Maryland Center for Environmental Science. Technology developed in Maryland by university researchers, the private sector, and federal laboratories enables the Maryland Technology Development Corporation to help businesses get started and grow through the commercialization of that technology.


Bernie Fowler Laboratory, Chesapeake Biological Laboratory, 142 Williams St., Solomons, Maryland, April 2019. Photo by Diane F. Evartt.

---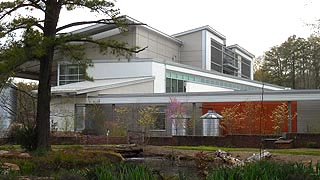 Federal institutions concerned with scientific investigations often make Maryland their base of operations. Here, for example, are found the Goddard Space Flight Center (Greenbelt); the National Institutes of Health (Bethesda); the Walter Reed Army Institute of Research (Silver Spring); and the Smithsonian Environmental Research Center (Edgewater). Private research institutions located in the State include Learning Undefeated (formerly MdBio Foundation, Inc.) and the J. Craig Venter Institute.

Charles McC. Mathias Laboratory, Smithsonian Environmental Research Center, Edgewater, Maryland, April 2018. Photo by Diane F. Evartt.

---
---
Search the Manual
e-mail: mdmanual@maryland.gov
© Copyright March 14, 2022 Maryland State Archives