BIOTECHNOLOGY
---
Biotechnology is a science that uses or manipulates living organisms or systems to develop useful products. It has been widely used in agriculture in areas such as the genetic engineering of pest-resistant crops, or cross-breeding of animals or plants to alter their characteristics. In medicine, it has helped to develop vaccines and supplements.

Institute for Bioscience & Biotechnology Research, Columbus Center, 701 East Pratt St., Baltimore, Maryland, April 2007. Photo by Diane F. Evartt.

---
Maryland ranked 4th in the nation for its "core biotechnology" companies in Ernst and Young's 2006-2008 annual rankings of biotech centers. More than 500 bioscience companies, the second largest cluster in the country, have chosen Maryland for their business site. Of these, some 350 are located in Montgomery County, including AstraZeneca and GlaxoSmithKline, as well as the National Institutes of Health and the U.S. Food and Drug Administration.
---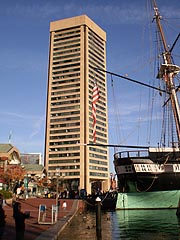 The Life Science Investment Fund (part of the Maryland Technology Development Corporation) connects research groups with funding and clients. It also promotes Maryland as a good base of operations for bioscience facilities. The Biotechnology Investment Incentive Tax Credit (BIITC) provides investors with tax credits of 50% of an investment in qualified Maryland biotechnology companies, up to $250,000 for each company per fiscal year.

In Maryland, the Life Sciences Advisory Board promotes science research and manufacturing. The Board also coordinates resources and seeks to support federal science facilities in the State.

Research by the University of Maryland, College Park, the University of Maryland, Baltimore, and the National Institute of Standards and Technology is used by the Institute for Bioscience & Biotechnology Research of the University System of Maryland to develop advances in science, medicine, and engineering.

BioMaryland Center, World Trade Center Baltimore, 401 East Pratt St., Baltimore, Maryland, November 2009. Photo by Diane F. Evartt.

---
---
© Copyright July 25, 2017 Maryland State Archives