ARTS
---

Madonnari Arts Festival, Little Italy, South High St., Baltimore, Maryland, September 2019. Photo by Diane F. Evartt.

---
Walters Arts Museum, 600 North Charles St., Baltimore, Maryland, August 2009. Photo by Diane F. Evartt.

---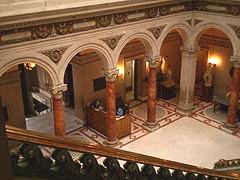 The arts in Maryland reflect the State's geographic and cultural diversity from traditional Appalachian fiddle music in Western Maryland and African-American quilting on the lower Eastern Shore to experimental performance and media arts in metropolitan Baltimore and areas surrounding Washington, DC. The arts industry represents some $634 million in the State's economy, fueled by an audience of nearly 10 million each year.


Main Building foyer, Maryland Institute College of Art, 1300 Mount Royal Ave., Baltimore, Maryland, April 2012. Photo by Diane F. Evartt.

---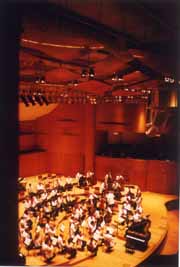 Paintings, photography, and sculpture, along with special presentations of film and music are presented in Maryland's many museums, and sometimes at public sites of government agencies, such as the State Archives, or the Baltimore City Circuit Court and Baltimore Bar Library Art Collection.

Arts institutions of national prominence, such as the Baltimore Symphony, are found in Maryland. Regional interdisciplinary arts institutions offer professional and amateur productions, and over 30 schools and academies are devoted to training young artists. Some, like Baltimore School for the Arts (a public high school) and the Peabody Institute of The Johns Hopkins University, give public performances.

Colleges and universities in Maryland host touring art exhibits, dance and theater troupes, soloists, chamber music groups, and orchestras.

Baltimore Symphony Orchestra, Meyerhoff Symphony Hall, 1212 Cathedral St., Baltimore, Maryland, July 2003. Photo by Diane F. Evartt.

---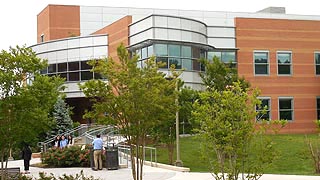 Performing Arts & Humanities Building (left), University of Maryland Baltimore County, Catonsville, Maryland, May 2019. Photo by Diane F. Evartt.
School 33 Arts Center (right), 1427 Light St., Baltimore, Maryland, October 2007. Photo by Diane F. Evartt.

---
Among college and university programs are the Distinguished Artist Series of the U.S. Naval Academy; and art exhibits at the Elizabeth Myers Mitchell Gallery, St. John's College, Annapolis.

Through the Maryland State Arts Council, State government supports the performing, visual and creative arts. These include dance, drama, music drama, architecture, painting, sculpture, graphics, crafts, photography, design, film, television and creative writing. The Council also helps administer the Arts-In-Education Program which funds artists who work or hold workshops in public schools to supplement the school curriculum. At the county level, local arts councils are active, such as the Frederick Arts Council at Frederick, and the Queen Anne's County Arts Council at Centreville.


Fell's Point Corner Theatre, 251 South Ann St., Baltimore, Maryland, December 2008. Photo by Diane F. Evartt.

---
Fish Out of Water, Baltimore Public Art Exhibit
Mural of bumblebee, ladybug, and grasshopper in garden, Fleet St. (near South Caroline St.), Baltimore, Maryland, April 2008. Photo by Diane F. Evartt.

---
---
Search the Manual
e-mail: mdmanual@maryland.gov
© Copyright March 11, 2022 Maryland State Archives