MUSEUMS
---
Museums in Maryland
Roman & Greek Galleries, Walters Art Museum, 600 North Charles St., Baltimore, Maryland, August 2014. Photo by Sarah A. Hanks.

---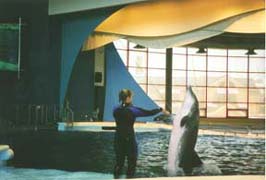 Maryland's long, rich past is accessible through the State's many museums. Some specialize in art, history, and culture or focus on the Chesapeake Bay, a dominant feature of Maryland life and landscape. Others highlight industry, technology, or science. Local historical societies also sometimes house museums.




Dolphin, National Aquarium , 501 East Pratt St., Baltimore, Maryland, August 2001. Photo by Diane F. Evartt.

---