---
PHOTOGRAPHY

At the State Archives, Photographic Collections are part of Special Collections.

Henry C. Schaefer, self-portrait, Annapolis, Maryland, c. 1887-1895 (Henry C. Schaefer Collection, Special Collections MSA SC1804-1, Maryland State Archives).

---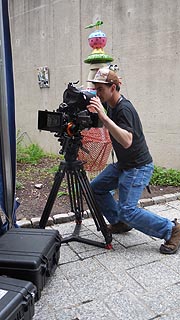 Beachy, Leo J. (1874-1927)
Bodine, A. Aubrey (1906-1970)

Born in Baltimore, Maryland

Byrne, David (1952-)


Born in Dumbarton, Scotland
Moved to Arbutus, Maryland at age seven

Byerly, John Davis (1839-1914)
Coale, George Buchanan (1819-1887)
Evans, Middleton

Born in Baltimore, Maryland
Photographer, American Visionary Art Museum, 800 Key Highway, Baltimore, Maryland, June 2019. Photo by Diane F. Evartt.

---
Hayden, Emily Spencer (1869-1949)

Born in Randallstown, Maryland

Imboden, Connie (1953-)
Kniesche, Robert F. (1906-1976)

Born in Baltimore, Maryland

Latimer, Blanche Hungerford (1885-1944)

Born in Baltimore, Maryland

Meade, Rowland H.
Miller, Roger (1946-)
Patterson, Mary Marvin Breckinridge (1905-2002)
Pickering, Edgar H. (1892-1969)
Swagger, Weyman (1943-2010)

Born in Beverly, West Virginia, 1943
Died in Halethorpe, Maryland, March 31, 2010

Warren, Marion E. (1920-2006)

Born near Billings, Montana, June 18, 1920
Moved to Annapolis, Maryland, in 1947
Died in Annapolis, Maryland, Sept. 8, 2006
---
© Copyright June 27, 2019 Maryland State Archives