HOWARD COUNTY, MARYLAND
Origin: Howard District was created from Anne Arundel County by Chapter 22, Acts of 1838 (confirmed by Chapter 49, Acts of 1839, & further authorized by Chapter 98, Acts of 1839). Although unrepresented in the General Assembly, the District enjoyed the status of a county. It officially was formed as a county in 1851 (Const. 1851, Art. VIII, sec. I). The County was named for John Eager Howard (1752-1827), Revolutionary War officer, Maryland governor, and statesman.
Boundaries: Bounded north by Baltimore & Carroll counties; east by Patapsco River & Anne Arundel County; south by Prince George's County; west by Montgomery County.

---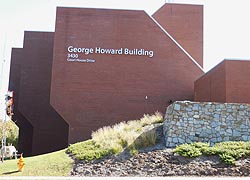 County Code & Charter
County Executives
County Flag
County Profile
County Seal
County Seat: Ellicott City, MD 21043
Form of Government: Charter since 1968
Population: 1990 census: 187,328; 2000 census: 247,842; 2010 census: 287,085

George Howard Building, 3430 Court House Drive, Ellicott City, Maryland, October 2014. Photo by Diane F. Evartt.

---
---
---
websites:
Aging & Independence, Office on: www.howardcountymd.gov/Departments/Community-Resources-and-Services/Office-on-Aging-and-Independence
Animal Control: www.howardcountymd.gov/Departments/Police/Animal-Control
Budget Office: www.howardcountymd.gov/Departments/County-Administration/Budget
Circuit Court: www.courts.state.md.us/clerks/howard/
Community College: www.howardcc.edu/
Community Resources & Services Dept.: www.howardcountymd.gov/Departments/Community-Resources-and-Services
Corrections Dept.: www.howardcountymd.gov/Departments/Corrections
County Administration Dept.: www.howardcountymd.gov/Departments/County-Administration
County Council: http://cc.howardcountymd.gov/
County Executive: www.howardcountymd.gov/Branches/County-Executive
County Government: www.howardcountymd.gov/
County Government Directory: www.howardcountymd.gov/LinkClick.aspx?fileticket=OdXyAbeKcqY%3d&tabid=1504&portalid=0
District Court: www.mdcourts.gov/district/directories/courtmap.html#HOWARD
Economic Development Authority: www.hceda.org/
Elections Board: www.howardcountymd.gov/Departments/Board-of-Elections
Emergency Management Office: www.howardcountymd.gov/Departments/Fire-and-Rescue/Office-Of-Emergency-Management
Finance Dept.: www.howardcountymd.gov/Departments/Finance
Fire & Rescue: www.howardcountymd.gov/Departments/Fire-and-Rescue
Health Dept.: www.howardcountymd.gov/Departments/Health
Historic Preservation Commission: www.howardcountymd.gov/Departments/Planning-and-Zoning/Conservation-and-Preservation/Historic
Housing & Community Development Dept.: www.howardcountymd.gov/Departments/Housing
Human Resources Office: www.howardcountymd.gov/Departments/County-Administration/Human-Resources
Inspections, Licenses, & Permits Dept.: www.howardcountymd.gov/Departments/Inspections-Licenses-and-Permits
Job Service: www.dllr.state.md.us/county/howard/
Law Office: www.howardcountymd.gov/Departments/Office-Of-Law
Library: http://hclibrary.org/
Planning & Zoning Dept.: www.howardcountymd.gov/Departments/Planning-and-Zoning
Police Dept.: www.howardcountymd.gov/Departments/Police
Public Defender: www.opd.state.md.us/districts/dist10.aspx
Public Information Office: www.howardcountymd.gov/Departments/County-Administration/Public-Information
Public Schools: www.hcpss.org/
Public Works: www.howardcountymd.gov/Departments/Public-Works
Recreation & Parks Dept.: www.howardcountymd.gov/Departments/Recreation-and-Parks
Register of Wills: http://registers.maryland.gov/main/howard.html
Sheriff's Office: www.howardcountymd.gov/Branches/Sheriffs-Office
Social Services Dept.: http://dhr.maryland.gov/local-offices/howard-county/
State's Attorney: www.howardcountymd.gov/Branches/States-Attorney
Technology & Communication Services Dept.: www.howardcountymd.gov/Departments/Technology-and-Communication
Tourism Office: www.visithowardcounty.com/
Transportation Office: www.howardcountymd.gov/Departments/County-Administration/Transportation
---
© Copyright May 08, 2018 Maryland State Archives