BOATING WATERS
---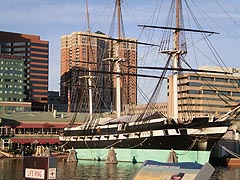 USS Constellation (left), Inner Harbor, Baltimore, Maryland, November 2009. Photo by Diane F. Evartt.

Sailboat (right), Patapsco River, Locust Point, Baltimore, Maryland, June 2019. Photo by Diane F. Evartt.

---
Kayaks, Snow Hill, Maryland, June 2018. Photo by Diane F. Evartt.

---
Maryland's 23 rivers and bays combine with more than 400 miles of water tributary to the Chesapeake Bay, and coastal bays. To and from the Atlantic Ocean, some 35 miles of water are accessible.

Information about licensing, boat titles, and boat registration is available from the Licensing and Registration Service of the Department of Natural Resources. The Department also provides information about public boat launch facilities in Maryland.

The Maryland Water Trails Program within the Department of Natural Resources coordinates the development, promotion, and protection of a system of water trails throughout the State.


Anchors, Havre de Grace Maritime Museum, 100 Lafayette St., Havre de Grace, Maryland, June 2015. Photo by Sarah A. Hanks.

---
As of 2019, Maryland has 480 Public Water Access sites to serve the general boating public. This number includes 249 boat ramps for motorized vessels, 219 soft access sites for non-motorized vessels and 12 other public water access sites that include docking facilities and wharves. Maryland also has over 782 miles of State designated water trails.

As of 2018, some 170,000 boats were registered in Maryland, including over 18,000 personal watercraft.

Boat rack along St. Mary's River, St. Mary's City, Maryland, May 2009. Photo by Diane F. Evartt.

---
The Eastern Shore offers rivers and tributaries of the Chesapeake Bay on which to canoe, kayak, fish, or sail, but it also hosts powerboat shows.

Canoes (left), Snow Hill, Maryland, June 2018. Photo by Diane F. Evartt.

Crab boat with crab pots (traps) (right), Chesapeake Beach, Maryland, June 2010. Photo by Diane F. Evartt.

---
On the Eastern Shore in Dorchester County, the Cambridge Classic powerboat races are held. Dating from 1910, they are the nation's oldest active powerboat races. The next race will be held in May 2020. Cambridge also will host another powerboat race, the Thunder on the Choptank, in July 2020.

Chestertown in Kent County holds its annual Sultana Downrigging Weekend Tall Ship and Wooden Boat Festival each fall. It will next be held November 1-3, 2019.


Skipjack H. M. Krentz on Miles River, St. Michaels, Maryland, February 2005. Photo by Diane F. Evartt.

---
In Talbot County, the Chesapeake Bay Maritime Museum in St. Michaels hosts the Mid-Atlantic Small Craft Festival each fall. The next festival will be held in October 2020.

The Baltimore Boat Show is held each winter at the Baltimore Convention Center. The next show will be held January 23-26, 2020.

Each Spring, the Bay Bridge Boat Show is held on Kent Island at Stevensville. It is the largest Mid-Atlantic Spring boat show and will next be held on April 17-19, 2020.

Sailboats, Back Creek, Annapolis, Maryland, September 2009. Photo by Diane F. Evartt.

---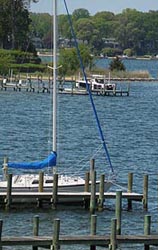 Annapolis, Maryland's capital city, hosts the Spring Sailboat Show each April and the Annual United States Sailboat Show and the Annual United States Powerboat Show each October at the City Dock.
Spring Sailboat Show: April 24-26, 2020

U.S. Sailboat Show: Oct. 2020

U.S. Powerboat Show : Oct. 2020
Also in Annapolis, the Helly Hansen National Offshore One-Design (NOOD) Regatta takes place each May. The next Regatta will be held in May 2020.

Boats at piers, Severn River, Crownsville, Maryland, May 2015. Photo by Diane F. Evartt.

---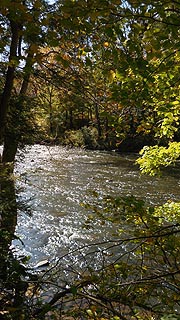 In Western Maryland's Garrett County, the Youghiogheny Scenic and Wild River provides some of the best whitewater rafting east of the Mississippi. Its 20-mile stretch below the Youghiogheny River Reservoir offers whitewater rafting, beginning with class I and II rapids for the first 9 miles, and ending with a class III and IV section the next 7 miles.

Also in Garrett County, the International Canoe Federation (ICF) 2014 Canoe Slalom World Championships were held in McHenry. That international event, on Sept. 17-21, 2014, required competitors to navigate a 300-meter whitewater course in either a canoe or kayak.





Youghiogheny River, Friendsville, Maryland, October 2015. Photo by Diane F. Evartt.

---
---
© Copyright October 15, 2019 Maryland State Archives