CAPITAL
---
Annapolis is the State capital of Maryland. Centered on Maryland's Western Shore, Annapolis lies 25 miles south of Baltimore and 30 miles east of Washington, DC.

From the founding of Maryland in 1634, however, St. Mary's City was the first seat of Maryland's colonial government, not Annapolis. (In southern Maryland, Historic St. Mary's City can be visited today in St. Mary's County.) As the population of Maryland grew, however, St. Mary's City, near the southernmost tip of St. Mary's County, proved too distant for most of the colony's inhabitants. Consequently, in 1694, the General Assembly designated Anne Arundel Town, midway up Chesapeake Bay, as the new capital and, in February - March 1694/5, the government moved its records and its operations there.

State House (from Francis St.), Annapolis, Maryland, February 2014. Photo by Diane F. Evartt.

---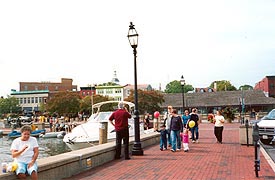 After the death of Queen Mary (1662-1694) of England, Scotland, and Ireland, in December 1694, Anne Arundel Town was renamed Annapolis in May 1695 for her younger sister, Princess Anne. Queen Anne (1665-1714) ascended the throne in 1702 following the death of Mary's husband, King William III (1650-1702). In 1707, England and Scotland united and Anne became Queen of Great Britain and Ireland, which she ruled until her death.

Royal Governor John Seymour granted a municipal charter to Annapolis on November 22, 1708.

City Dock, Annapolis, Maryland, September 2008. Photo by Diane F. Evartt.

---
In Annapolis, nearly a year after the Boston Tea Party, the brig Peggy Stewart with its load of British tea was burned on October 19, 1774.

Toward the end of the Revolutionary War, the City also served as capital to the newly forming American nation when the Continental Congress met in Annapolis from November 26, 1783 to August 19, 1784. Here too, on January 14, 1784, the Treaty of Paris, ending the Revolutionary War, was ratified by Congress.

McDowell Hall, St. John's College, Annapolis, Maryland, April 2005. Photo by Diane F. Evartt.

---
In September 1786, at the Annapolis Convention, delegates from five states discussed revisions to the Articles of Confederation. The Convention's call for a further meeting led to the assembling of delegates at Philadelphia from May 14 to September 17, 1787 to draft the U.S. Constitution.

In recent years, the U.S. Naval Academy in Annapolis hosted several international conferences. The Middle East Peace Conference was held at the Academy on November 27, 2007, while the U.S.-China Strategic Economic Dialogue (SED) IV took place June 17-18, 2008.

U.S. Naval Academy grounds, Annapolis, Maryland, May 2000. Photo by Diane F. Evartt.

---
Located on the Severn River in Anne Arundel County, Annapolis is not only the center of Maryland government but also home to the U.S. Naval Academy, and St. John's College (originally founded in 1696 as King William's School) whose curriculum is based upon the study of the classics.

Known as "America's Sailing Capital", Annapolis hosts the Bay Bridge Boat Show: Power and Sail each Spring, as well as the U.S. Powerboat Show and the U.S. Sailboat Show each October.


Sailboats, Back Creek, Annapolis, Maryland, October 2008. Photo by Diane F. Evartt.

---
---
© Copyright August 06, 2021 Maryland State Archives