UNITED STATES DISTRICT COURT
FOR THE DISTRICT OF MARYLAND
---
U.S. Magistrate Judges
Garmatz Federal Courthouse, 101 West Lombard St., Baltimore, Maryland, April 2008. Photo by Diane F. Evartt.

---
ORGANIZATIONAL STRUCTURE
NORTHERN DIVISION
James K. Bredar, Chief Judge

Richard D. Bennett, Judge
Stephanie A. Gallagher, Judge
Ellen L. Hollander, Judge
George L. Russell III, Judge


Catherine C. Blake, Senior Judge
J. Frederick Motz, Senior Judge


Felicia C. Cannon, Clerk of Court

Catherine Stavlas, Chief Deputy Clerk, Operations
Elizabeth B. (Wendy) Snowden, Chief Deputy Clerk, Administration & Information Technology

Garmatz Federal Courthouse, Suite 4228
101 West Lombard St., Baltimore, MD 21201
(410) 962-2600
web: www.mdd.uscourts.gov/
SOUTHERN DIVISION
---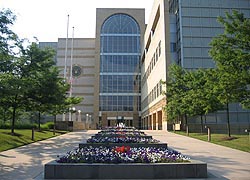 U.S. Courthouse, 6500 Cherrywood Lane, Greenbelt, Maryland. Photo courtesy of U.S. District Court.

---
U.S. Courthouse
6500 Cherrywood Lane, Greenbelt, MD 20770
(301) 344-0660
---
Search the Manual
e-mail: mdmanual@maryland.gov
© Copyright March 14, 2022 Maryland State Archives