SOUTHERN DIVISION
---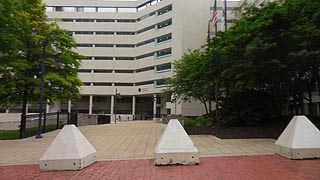 The United States Bankruptcy Court for the District of Maryland is part of the United States District Court for the District of Maryland. With separate clerks' offices and court dockets, the U.S. Bankruptcy Court administers debtors' estates and hears petitions of debtors seeking relief from bankruptcy.


Garmatz Federal Courthouse, 101 West Lombard St., Baltimore, Maryland, May 2019. Photo by Diane F. Evartt.

---
Although Congress enacted emergency bankruptcy laws in 1800, 1841, and 1867, the National Bankruptcy Act of 1898 was the first comprehensive statute and governed bankruptcy cases for almost 80 years. Under the act, the U.S. District Court appointed "referees in bankruptcy" to handle these cases. The federal Bankruptcy Reform Act of 1978 established independent bankruptcy courts and judges, a move declared unconstitutional in 1982 by the U.S. Supreme Court. The Bankruptcy Amendments and Federal Judgeship Act of 1984 (P. L. 98-353) remedied the jurisdictional problems of the 1978 act by designating bankruptcy courts as units of the federal district courts.

For Maryland, the U.S. Court of Appeals for the Fourth Circuit now appoints seven bankruptcy judges to fourteen-year terms. The federal Bankruptcy Abuse Prevention and Consumer Protection Act of 2005 increased the number of judges from four to seven. The judges of the U.S. District Court for the District of Maryland name the Chief Judge of the U.S. Bankruptcy Court. The bankruptcy judges appoint the bankruptcy clerk.

The Southern Division formerly was in Hyattsville. It relocated to a private office building on Hungerford Drive in Rockville on August 3, 1981. The Division moved to the new U.S. Courthouse at Greenbelt on October 3, 1994.
---
Search the Manual
e-mail: mdmanual@maryland.gov