---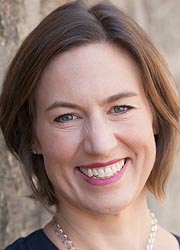 KATHRYN A. (KATIE) FRY HESTER
Democrat, District 9, Carroll & Howard Counties
James Senate Office Building, Room 304
11 Bladen St., Annapolis, MD 21401
(410) 841-3671, (301) 858-3671
e-mail: katiefry.hester@senate.state.md.us
fax: (410) 841-3395, (301) 858-3395
---
Member of Senate since January 9, 2019. Member, Judicial Proceedings Committee, 2019-; Joint Audit Committee, 2019-. Senate Chair, Joint Committee on Cybersecurity, Information Technology and Biotechnology, 2019-. Member, Women Legislators of Maryland, 2019-.

Member, Maryland Tourism Development Board, 2019-; Maryland Rural Council, 2019-.

Cornell University, B.Sc. (agricultural & biological engineering), 1997. Senior Analyst, Arthur D. Little, 1998-2001. Manager, Research and Advocacy, SustainAbility, 2008-09 (senior advisor, 2001-04; manager, engaging stakeholders, 2005-07; working sabbatical, 2008). Americas Director, The Partnering Initiative, 2015- (senior associate, 2009-13; director, business partnership action, 2013-15). Member, Maryland First Responders. Volunteer, Wisp Ski Patrol. Member, Do The Most Good; Indivisible Howard County; Mobilize HoCo Schools. Member, Ellicott City and Western Howard County Democratic Club. Registered yoga teacher, The Yoga Center of Columbia, 2013. Married; two daughters.
---
© Copyright January 23, 2019 Maryland State Archives