---
Federalsburg Historical Society Museums
P. O. Box 84, Federalsburg, MD 21632 - 0084
(443) 434-3114
e-mail:
federalsburgmuseum@comcast.net
---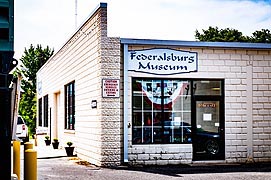 Federalsburg Area Heritage Museum, 100 Covey-Williams Alley, Federalsburg, Maryland, September 2015. Photo by David R. Herron.

---
Greensboro Historical Society Museum
104 East Sunset Ave., Greensboro, MD 21639
(410) 829-1433
e-mail: gpnash1@gmail.com


James H. Webb Cabin
23459 Grove Road, Preston, MD 21655
(410) 479-2730
web: https://harriettubmanbyway.org/webb-cabin/

Linchester Mill Complex (includes Linchester Mill, Hog Island School, Millerís & Assistant Miller's Houses, & Nature & Braille Trail)
3390 Linchester Road, Preston, MD 21655
(410) 673-1910
web: https://harriettubmanbyway.org/linchester-mill/

Museum of Rural Life
P. O. Box 514
Taylor-Brown House, Courthouse Square, 16 North 2nd St., Denton, MD 21629 - 0514
(410) 448-4720
e-mail: info@carolinehistory.org
web: http://carolinehistory.org/rural-life-museum/

Preston Historical Society Museum
P. O. Box 661
Noble House, 167 Main St., Preston, MD 21655 - 0661
(410) 943-9080
web: www.prestonhistoricalsociety.com/events

Ridgely Railroad Memorial Park (includes train station, railcar, telephone exchange, schoolhouse, garden, paved trail)
1 West Railroad Ave., Ridgely, MD 21660
(410) 991-8225
e-mail: mscakel1@aol.com
web: https://ridgelyhistoricalsociety.com/ridgely-train-station-2/
mailing address: Ridgely Historical Society, P. O. Box 155, Ridgely, MD 21660 - 0155
Tuckahoe Neck Meeting House
24820 Meeting House Road, Denton, MD 21629
web: https://harriettubmanbyway.org/tuckahoe-neck-meeting-house/
(410) 228-1000
Williston Community Church
8270 Harmony Road, Denton, MD 21629
web: https://visitcaroline.org/listings/williston-community-church/
---
Search the Manual
e-mail: mdmanual@maryland.gov

This web site is presented for reference purposes under the doctrine of fair use. When this material is used, in whole or in part, proper citation and credit must be attributed to the Maryland State Archives. PLEASE NOTE: The site may contain material from other sources which may be under copyright. Rights assessment, and full originating source citation, is the responsibility of the user.
---
Tell Us What You Think About the Maryland State Archives Website!
---
© Copyright July 20, 2022 Maryland State Archives