ARCHIVES
---
Local Government Records
Edward C. Papenfuse State Archives Building, 350 Rowe Blvd., Annapolis, Maryland, 1997. Photo by James Hefelfinger (Hefelfinger Collection, MSA SC 1885-734-7, Maryland State Archives).

---
Dating from 1634 through the 1990s, records of Maryland State and local government are housed at the State Archives in Annapolis. The State Archives' Guide to Government Records describes these records. Additionally, the State Archives holds special collections of business records, government publications and reports, maps, newspapers, photographs, records of religious denominations, and private papers.

Many records at the State Archives can be seen on the web. County land records, for example, are accessible at mdlandrec.net. Various plats can be seen through plats.net.

Electronic access to information about Reference and Research, and Education and Outreach also is provided by the State Archives. Of special interest to teachers and students are the Documents for the Classroom series, and Archives of Maryland Online. Access to exhibits and speeches relating to Maryland history is available through Museum & Outreach.

Search Room, State Archives, 350 Rowe Blvd., Annapolis, Maryland, May 2007. Photo by Diane F. Evartt.

---
Major collections of manuscript and published materials relating to Maryland are held by the Maryland Center for History and Culture (formerly Maryland Historical Society), the Maryland Division of Enoch Pratt Free Library in Baltimore, and the libraries of Maryland's colleges and universities. Many federal government records are at the National Archives at College Park (Archives II).

Nontraditional "records" also are seen in unexpected places, such as art forms out of doors like the murals of Baltimore.

"We the People" mural, St. Paul St. & East Lafeyette St., Baltimore, Maryland, September 2014. Photo by Diane F. Evartt.

---
Additional archives of interest include:


Administration, Library & Archives Building, Calvert Marine Museum, Solomons Island Road, Solomons, Maryland, April 2018. Photo by Diane F. Evartt.

---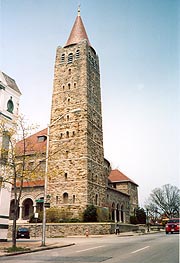 Episcopal Diocese of Maryland Archives, Baltimore (410) 467-1399, 1-800-443-1399; fax: (410) 584-7788
Ferdinand Hamburger, Jr., Archives (University Archives) of The Johns Hopkins University (410) 516-8335

Lovely Lane Museum and Archives, 2200 St. Paul St., Baltimore, Maryland, April 2007. Photo by Diane F. Evartt.

---
---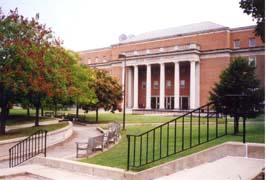 University of Maryland Archives, R. Lee Hornbake Library, University of Maryland, College Park, Maryland, August 2003. Photo by Diane F. Evartt.

---
---
Search the Manual
e-mail: mdmanual@maryland.gov
© Copyright March 11, 2022 Maryland State Archives