GARDENS
---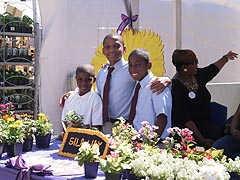 School children at Baltimore Flowermart, Mount Vernon Place, Baltimore, Maryland, May 2010. Photo by Diane F. Evartt.

---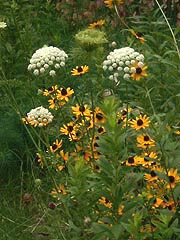 Maryland gardens are grown indoors and outdoors throughout the State. They also bloom naturally where holly and dogwood emerge wild in woodlands, and wisteria and honeysuckle flourish.
Queen Anne's Lace and Black-Eyed Susans (left), Glen Burnie, Maryland, June 2011. Photo by Diane F. Evartt.

---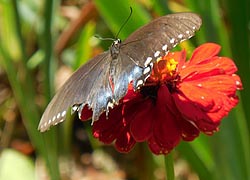 Gardens, both cultivated and wild, provide habitat for creatures great and small.

Spicebush Swallowtail (Papilio troilus) butterfly on Zinnea, Glen Burnie, Maryland, September 2014. Photo by Diane F. Evartt.

---
Under the University of Maryland Extension, the Maryland Master Gardener Program encourages gardeners to increase their knowldege of horticulture and pest management and share it with others. The Maryland program has been active since 1978.





Sunflowers at Kinder Farm Park, 1001 Kinder Farm Park Road, Millersville, Maryland, July 2006. Photo by Diane F. Evartt.

---
Plants for gardens, including indoor gardens, are sold at nurseries, farmers' markets, flowermarts, and festivals in Maryland. Annual plant sales are offered at historic sites as well, such as Historic London Town and Gardens at Edgewater, and the William Paca House and Garden in Annapolis, and by local garden clubs and community groups at various times and locales throughout the year.

Herb & vegetable garden, Hancock's Resolution, 2795 Bayside Beach Road, Pasadena, Maryland, June 2015. Photo by Diane F. Evartt.

---