COUNTIES (by date of formation)
---
Maryland's counties formed over the course of three centuries. St. Mary's County, the Western Shore's most southerly county, in 1637 was the first to be organized, while Garrett County, which lies furthest to the west, in 1872 was the last.


Harford County Courthouse, 20 West Courtland St., Bel Air, Maryland, March 2005. Photo by Diane F. Evartt.

---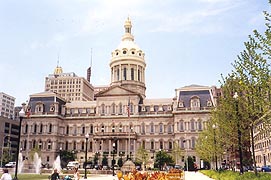 Baltimore City was incorporated as a municipality within Baltimore County in 1796, and was established as a governmental unit separate from Baltimore County in 1851. Since the adoption of the Maryland Constitution of 1851, Baltimore City has been considered on a par with county jurisdictions, but as a separate entity from Baltimore County.

City Hall, 100 North Holliday St., Baltimore, Maryland, June 2006. Photo by Diane F. Evartt.

---
1637 St. Mary's County
1642 Kent County
1650 Anne Arundel County
1654 Calvert County
1658 Charles County
1659/60 Baltimore County

St. Mary's County Courthouse, 41605 Courthouse Drive, Leonardtown, Maryland, May 2009. Photo by Diane F. Evartt.

---
---
1706 Queen Anne's County
1742 Worcester County
1748 Frederick County
1773 Caroline County
1773 Harford County
1776 Montgomery County
1776 Washington County
1789 Allegany County
1796 Baltimore City
1837 Carroll County
1851 Howard County
1867 Wicomico County
1872 Garrett County


Worcester County Courthouse, One West Market St., Snow Hill, Maryland, June 2018. Photo by Diane F. Evartt.

---
---
Search the Manual
e-mail: mdmanual@maryland.gov
© Copyright March 11, 2022 Maryland State Archives