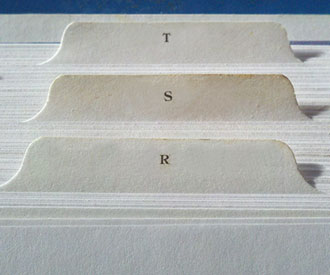 What is an Index?
An index is an ordered list of headings that points to relevant information in materials that are organized in a different order. Generally, whenever an index exists, that index is necessary for being able to find a record within a record series.
Indexes permit a user to input some piece of information (such as the name of an individual) and see all other information about the relevant file, such as the case number or date. For example, case files are often arranged numerically (1-100). Most people needing to access a case file wouldn't know the case number, but would know the name associated with the case. In this situation, there generally exists an index that is arranged alphabetically (A-Z). This index allows you to look up a name and find out the case number so that you can then find the case file.
While older indexes were typically bound books, newer indexes are often digital databases.
Deciding how long to retain indexes
Since the index is necessary for finding records within a series, indexes should be retained for at least as long as the records that they index. In other words, you should not destroy the indexes while the records it indexes still exist, as this would make it difficult to find any particular record.
In some situations, indexes serve as a useful summary of the records that they index, and may therefore have value to be kept even after the records they index are destroyed.
Keeping the indexes with the records they index
Because indexes are necessary to find a particular record within a record series, indexes should be maintained by the same agency that has custody of the record.
For this reason, when any set of records is transferred into Maryland State Archives custody, the accompanying index material must also be transferred at the same time.
What is the difference between an inventory and an index?
An inventory describes how records are organized in boxes, books, or digital file structures. For example, an inventory of transferred boxes might read "Box 1: Cases 1-50; Box 2: Cases 51-100," and so on. As another example, the inventory of transferred books might read "Book SM 1, 1990-1991; Book SM 2, 1992-1993."
An index is an ordered list of headings that points to relevant information in materials that are organized in a different order. For example, an index might be a book of all the names involved in a certain type of record for a certain year arranged alphabetically.
Can my agency provide the Archives a login so that they can access the index we maintain rather than transferring the index information?
In some situations, it is beneficial to your agency and the State Archives for Archives staff to be able to remotely log in to your indexes. However, this does not meet an agency's requirement to transfer indexing along with permanent records. Only by exporting data from your agency into Archives custody can the data be preserved in the permanent record repository.
Can't the Archives just refer visitors back to my agency for case number/date information?
No, as this will shift an undue burden to Maryland's citizens and will not manage the records appropriately over time. It is unreasonable to expect citizens unfamiliar with records and their arrangement to come to the Archives, be turned away for lack of key data, visit the originating agency to consult an index, then return to access their desired record. Patrons who go through this process, in the end, tend to be unsatisfied with the work of the Maryland State Archives and the originating agency. Additionally, if indexing becomes inaccessible or obsolete at the originating agency prior to its transfer into Archives custody, access to records might be lost forever.
How can the Archives help my agency provide indexing to patrons if I no longer have the indexes in my custody?
In the case of digital indexes ( such as databases, etc.), a copy may be maintained by your agency even after a copy the database is transferred into Archives custody. In the case of physical indexes, the Archives is happy to discuss arrangements for scanning and generating a reference copy that can remain in your agency's custody after the original index is transferred to the Archives. Typically, this issue arises when only a portion of the files indexed by a book or database are transferred to the Archives; when all files indexed by a book or database are transferred to the Archives, your agency can instead refer users seeking that content to the Archives. This will help to cut down on unnecessary labor at your agency.
What if my digital index is in a proprietary format that cannot be easily exported?
Unfortunately, the reality of digital indexes is that companies sometimes design them in such a way that they are difficult to export for transfer to the Archives. Archives staff is always eager to work with you to ensure that any permanent indexing gets transferred to Archives custody in a preservable format. In the future, we encourage agencies to consider exportability when having digital indexes and/or database systems designed in-house or purchased from a vendor.
If you have any other questions, please contact the Appraisal and Description Department at msa.helpdesk@maryland.gov.
---
This web site is provided as a courtesy of the Maryland State Archives. As you develop your records management program, you should consult with your agency's Records Officer.

This web site is presented for reference purposes under the doctrine of fair use. When this material is used, in whole or in part, proper citation and credit must be attributed to the Maryland State Archives. PLEASE NOTE: The site may contain material from other sources which may be under copyright. Rights assessment, and full originating source citation, is the responsibility of the user.
---
Tell Us What You Think About the Maryland State Archives Website!
---
© Copyright May 05, 2023 Maryland State Archives