WAR MEMORIAL BUILDING
Dedicated in April 1925, the War Memorial Building and the War Memorial Plaza were erected originally to honor those Marylanders who died in World War I. In November 1977, the Mayor of Baltimore rededicated the Building as a memorial to Marylanders who gave their lives in all of America's twentieth-century wars.

The War Memorial Building lies directly across from City Hall, and, with the Plaza, was designed by Baltimore architect, Laurence Hall Fowler.

War Memorial Building, 101 North Gay St., Baltimore, Maryland, June 2006. Photo by Diane F. Evartt.

---
The War Memorial Building serves as a place of rememberance for fallen soldiers, and as an administrative office for veterans' outreach organizations. The Building is open and available for meetings of veterans' groups and patriotic societies, and for civic gatherings, provided that no collection or donation is taken nor any admission charged. Maintenance costs are shared equally by the State and the City of Baltimore.
---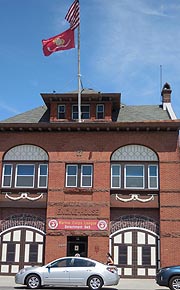 In June 2006, the Outreach and Advocacy Program was authorized by the General Assembly (Chapter 290, Acts of 2006). The Program ensures that veterans know what services, benefits, and assistance the federal and State governments provide for them. Besides informing veterans of tax, health care, disability, pension and education benefits to which they might be entitled, Outreach and Advocacy actively assists veterans in the process of claiming such benefits, and monitoring the status of individual claims. The Program further keeps the Governor and General Assembly informed on issues important to veterans which may require gubernatorial or legislative action (Code State Government Article, secs. 9-940 through 9-946).

Marine Corps League Detachment no. 565, Firehouse, 1426 East Fort Ave., Locust Point, Baltimore, Maryland, August 2015. Photo by Diane F. Evartt.

---
29449 Charlotte Hall Road, Charlotte Hall, MD 20622

To provide residential and long-term health care to geriatric, chronically ill or disabled veterans, Charlotte Hall Veterans Home opened in January 1985 in St. Mary's County. It was constructed on the site of the former Charlotte Hall School which had been there from 1774 to its closing in 1976. The Home provides comprehensive nursing-care, comprehensive care, and assisted living. A three-story structure, the Home contains some 500 rooms. It is located on 126 acres in St. Mary's County.

A comprehensive nursing-care wing opened in March 1986, and a comprehensive-care wing, including a specialized unit for Alzheimer's care, opened in 1993. To expand the availability of assisted living, another wing opened in 2003. Moreover, a pavillion was added in November 2013. Currently, the Home has 100 assisted-living beds and 278 nursing-care beds.

On Veterans Day 2004, spouses of veterans who did not themselves serve in the armed forces became eligible for admission to the Home (Executive Order 01.01.2004.61; Chapter 238, Acts of 2006).

Applications for residency in the Home may be requested from the Charlotte Hall Veterans Home.
---