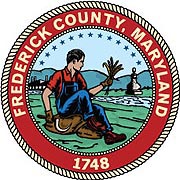 Frederick County was formed in 1748 from Baltimore and Prince George's counties. It is bordered to the north by Pennsylvania, the east by Carroll County, the south by Montgomery County and the Potomac River, and the west by Washington County. The county was probably named after Frederick Calvert (1731-1771), sixth and last Lord Baltimore.
Frederick County boasts several interesting historic sites. Catoctin Furnace, now in ruins, is said to have supplied cannonballs for the siege of Yorktown during the Revolution. The shafts for Rumsey's steam engine were manufactures here as well as the plates for the Monitor and the Merrimac. The Hessian Barracks, located on the grounds of the Maryland School for the Deaf, were used as prisons during the Revolution. Among the captives were Hessian mercenaries who found much in common with the German speaking people of this region. Relations between the prisoners and the townspeople were generally friendly, with the Hessians making fireworks for the American victory celebration in 1783. Mount Olivet Cemetery is one of the few places where the U. S. flag is never lowered. Among those buried here are Francis Scott Key, Barbara Fritchie, and Thomas Johnson. Other locales of interest are the Monocacy Battlefield, Camp David, and the Seton Shrine.
Frederick County was also the home of Joseph Weller, who is credited with the first manufacture of friction matches in the United States. He was able to set up a plant to dip the wooden shafts into a mixture of his secret formula in the Old Match House in Thurmont. Luckily the success of his enterprise enabled him to expand and set up in a larger plant elsewhere, because it appears that his factory burned down twice. Other famous Marylanders also considered Frederick County their home. Thomas Johnson, member of the Continental Congress from Maryland and Maryland's first governor, had homes as Richfields and Rose Hill Manor. Richfields was also the birthplace of Winfield Scott Schley, the hero of Santiago. John Hanson also resided in Frederick while he served in the Continental Congress.