Chief Exports: automobiles and light trucks, coal, and agricultural equipment.

Chief Imports: automobiles and light trucks, aluminum, and construction equipment.

In Maryland's economy, the Port of Baltimore plays a vital role generating nearly $3.3 billion in total personal income and supporting 15,330 direct jobs and 139,170 jobs connected to Port work. The Port also generates more than $310 million in taxes. It serves over 50 ocean carriers making nearly 1,800 annual visits.

Salt pile, Rukert Terminals, 2021 South Clinton St., Baltimore, Maryland, August 2016. Photo by Sarah A. Hanks.

---
Terminals. Handling Port traffic are five public and twelve private terminals, as well as seven post-Panamax cranes and four super-post-Panamax cranes. Public terminals include Dundalk, Fairfield, North Locust Point, Seagirt, and South Locust Point. Opened in 1990, the Seagirt Marine Terminal provides a 275-acre center for automated cargo-handling.
In 2018, the Port of Baltimore's public terminals set multiple records for handling general cargo, including the best first six months for moving 5,562,954 tons; best quarter (2nd) for moving 2,797,656 tons; and the most TEU (twenty-foot equivalent unit) containers for moving 90,152 units in a month (May).
Seven post-Panamax & four super-post-Panamax cranes, Seagirt Marine Terminal, Port of Baltimore, Baltimore, Maryland, May 2015. Photo by Sarah A. Hanks.

---
In 2018, the Port ranked first in the nation in handling automobiles, light trucks, farm and construction machinery, as well as imported sugar. In 2018, the Port handled a record 850,147 autos and light trucks, the most of any U.S. port for the eighth straight year and the first time passing the 800,000 mark. The Port also handled 442,838 import autos in 2018, the highest number ever.

In August 2018, the Port handled a record-setting 65,281 autos.


Tugboats, Fell's Point, Baltimore, Maryland, January 2000. Photo by Diane F. Evartt.

---
The first liquefied natural gas (LNG) exports, 3,317,173 tons, came through the Port in 2018.

In January 2017, the Port's public terminals handled a record-setting 923,030 tons of cargo, a 14% increase from January 2016. This included 712,386 container tons, which was a new month record and an increase of 20% from January 2016.

Containers. In 2018, containers grew 5%, from 596,972 containers to a record 627,144 containers. The Port also handled a record-setting 1,023,161 TEU containers. Farm and construction equipment (roll-on/roll-off), increased 12% from 727,946 tons to 820,445 tons. Finished rolled paper increased 11%, from 477,672 tons to 534,339 tons, while wood pulp fell 63%, from 191,196 tons to 70,428 tons. Breakbulk (locomotives & transformers) and bulk (asphalt & road salt) cargo decreased nearly 5%, from 173,669 to 165,201 tons.
---
In October 2018, the Gunde Maersk, a container ship which can handle 11,000 TEU containers, became the largest vessel to ever arrive at the Port.

In January 2017, the Port of Baltimore handled a record-setting 37,694 loaded containers.

In 2015, the Journal of Commerce ranked the Port of Baltimore as number one in the nation for container berth productivity, with the Port averaging 71 container movements each hour per berth. Three of the world's largest container shipping companies - Evergreen, Maersk, and MSC - now operate at the Port.

Shipping containers, Port of Baltimore, Baltimore, Maryland, July 2015. Photo by Sarah A. Hanks.

---
Cruise Lines. Along with cargo terminals, Baltimore also has a passenger cruise terminal, which offers year-round trips on several lines, including Royal Caribbean's Grandeur of the Seas and Carnival's Pride. American Cruise Lines makes trips around the Chesapeake Bay region and along the East Coast. German-based Phoenix Reisen and Aida Cruises make Baltimore a port of call during their trips.

Grandeur of the Seas cruise ship, Cruise Maryland Terminal, Baltimore, Maryland, May 2015. Photo by Sarah A. Hanks.

---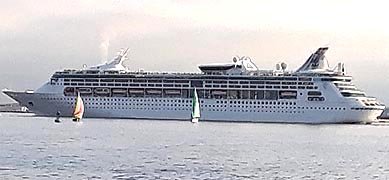 In 2018, cruises carrying 218,849 passengers departed from Baltimore, which ranked sixth in East Coast ports, eleventh in U.S. ports, and twentieth in world ports. The Port of Baltimore's cruise industry supports over 500 jobs and brings in over $90 million to Maryland's economy. In addition to the 94 homeport cruises, the Port handled 4 port calls. In October 2016, the Port handled a record 16 cruise arrivals.

Grandeur of the Seas cruise ship, heading to sea, Patapsco River, Baltimore, Maryland, October 2017. Photo by Sarah A. Hanks.

---
History. In the 17th century, the Port of Baltimore started as an access point for Maryland's tobacco trade with England. Soon other commodities also shipped through its natural harbor. By the end of the 18th century, the Port began trade with China. Supported by development of the railroad, the Port later transformed as a site for trade with Europe and South America in the 19th century.

The Port first drew attention for its ships in 1670 and was designated a port of entry by the General Assembly in 1706. Fells Point, the deepest part of the harbor, was home to numerous shipbuilders, and later would gain renown for its Baltimore clippers, as well as the Continental Navy. Its natural depth made Fells Point a center for trade and shipping, and, in 1773, it was incorporated into Baltimore City.

As Baltimore grew into a city during the Revolutionary War, the Port of Baltimore became a center for the trade with the West Indies that supported the war effort. To protect the Port, an earthwork fort, known as Fort Whetstone, was erected in 1776 on Whetstone Point, the narrow peninsula between branches of the Patapsco River. Wardens of the Port were authorized in 1783 to oversee construction of wharves, clear waterways, and collect duties from vessels entering and clearing the Port (Chapter 24, Acts of 1783).

Trade with China commenced in 1785 as John O'Donnell brought in goods to that part of the City called Canton, just east of Fells Point.

In 1793, as England warred with France, Maryland relinquished control of Fort Whetstone to the federal government. To protect coastal shipping and cities, the federal government began construction in 1794 of a series of Atlantic forts, among them Fort McHenry. To protect Baltimore's Port, Fort McHenry was constructed on the site of the Whetstone earthworks in 1794. Near the old fort, masonry stood in place of earthen walls, and more cannons were added, creating an upper and lower battery. The need for this more defensive structure was proven at the Battle of North Point during the War of 1812.

During the 19th century, Baltimore clipper ships sped from the Port around the world and developed a particularly lucrative trade with South America.

Although Baltimore was a port long before it was a city, the State delayed its role in port development until 1827. Then, the Governor began annually to appoint State wharfingers who took charge of State-owned or leased docks, particularly those adjacent to the State Tobacco Warehouse.

With the Baltimore and Ohio Railroad connecting to Port warehouses at Locust Point in 1845, Baltimore became the commercial gateway to an expanding nation. As supply and demand grew for imported goods to Baltimore, ship production and design increased.

Over time, the Port changed dramatically, most noticeably in its depth and width. In 1830 the U.S. Army Corps of Engineers surveyed Baltimore Harbor, establishing the central lane depth at 17 feet. Though dredging had been conducted earlier, the federal River and Harbor Act of 1852 first authorized dredging to obtain specific dimensions. The Act authorized a channel, some 22 feet deep and 150 feet wide, from Fort McHenry to Swan Point. To decrease sediment accumulations and reduce the need for dredging, in 1869 Brewerton Channel was created. Also 22 feet in depth, this new channel was 200 feet in width. Over the years, new channels have been added, deepened, and widened. A 50-foot turning basin was dredged in the Fort McHenry Channel in 1999. Today, the main channel reaches 51 feet down and 700 feet across. Brewerton Channel was widened further to 50 feet deep and 700 feet wide in 2001. In 2012, the Seagirt Marine Terminal berth also was deepened to 50 feet. By mid-2015, the access channel to the Seagirt Terminal was widened to accomodate the world's largest container ships. In 2019, a second 50-foot container berth will be constructed to accomodate two supersized container ships in the Port at the same time.

Though constantly growing since its inception, considerable time elapsed before the Port had a State agency to oversee operations. The Maryland Port Authority assumed that role in 1956 (Chapter 2, Acts of Special Session of 1956). The Authority's prime concern was to keep the Port competitive by improving and modernizing its facilities and by promoting it worldwide. In 1971, the Authority was replaced by the Maryland Port Administration under the Department of Transportation.

The Port of Baltimore continues to improve today. It adds jobs and revenue to Maryland's economic base, and has even begun ecological duties. In recent years, the Maryland Port Administration added a number of green projects to its workload, dredging and cleaning over 22 acres surrounding the Port, creating an environmental education center, and taking part in ecological programs, such as the Green Schools Program, and the Masonville Restoration Project. In 2015, new LED light fixtures, which are expected to save 80 percent in energy consumption each month, were installed on the bridge connecting the Dundalk and Seagirt Terminals.
---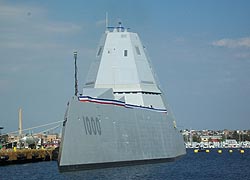 In conjunction with the 300th anniversary of the Port's creation, the Governor named the State's public marine terminals the "
On October 15, 2016, the Port of Baltimore was the location of the commissioning ceremony for the USS Zumwalt (DDG 1000), a guided missile destroyer in the U.S. Navy. The ceremony took place during Maryland's inaugural Fleet Week celebrations.