Local Public Libraries
The first bookmobile in the nation started in 1905 as a horse-drawn wagon in Washington County, Maryland. In FY2016, some 19 bookmobiles served the State.

Brooklyn Park Community Library, Anne Arundel County Department of Libraries, 1 East 11th Ave., Brooklyn Park, Maryland, August 2010. Photo by Diane F. Evartt.

---
Formerly the Division of Library Services of the State Department of Education oversaw public libraries in Maryland. Today that responsibility falls to the Maryland State Library Agency.

In Maryland are twenty-four public library systems, one in each county and Baltimore City, with a combined collection of 15.1 million items in Fiscal Year 2016. Maryland's public libraries, in Fiscal Year 2016, had 3,358 paid employees.

Bowie Branch Library, Prince George's County Memorial Library System, 15210 Annapolis Road, Bowie, Maryland, September 2017. Photo by Diane F. Evartt.

---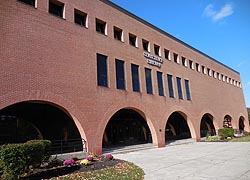 Maryland residents may register with and borrow materials from any public library in the State. In FY2016, 3.5 million Marylanders, about 56%, held library cards. Information and materials found through the Maryland State Library Network may be mailed, trucked, or transferred electronically to a local library. The public checked out 58.2 million items in FY2016. Of these, approximately 32.7 million were items for adults, and some 25.5 million were children's materials.


Lewis J. Orts Library, Frostburg State University, Frostburg, Maryland, October 2014. Photo by Diane F. Evartt.

---
Increasingly, electronic access to catalogs and the Internet has made computers an integral part of Maryland library systems. Wireless access is available at every public library branch throughout the State. Patrons may identify and locate library materials by searching catalogs linked to Sailor, an online public information network. Sailor connects Marylanders and their libraries to resources within the State and worldwide, providing access to the Internet and to e-mail. Sailor is available free through every public library, and via modem-equipped computers from homes, schools, and offices. At 190 branches, more than 5,195 internet terminals were available in FY2016.

Light Street Branch, Enoch Pratt Free Library, 1251 Light St., Baltimore, Maryland, June 2006. Photo by Diane F. Evartt.

---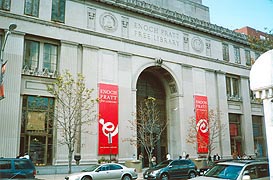 In Baltimore, the Enoch Pratt Free Library opened in January 1886. It was a gift to the City from Enoch Pratt (1808-1896), a remarkable businessman and philanthropist.

Based at the Enoch Pratt Free Library, the Maryland State Library Network serves more than 400 libraries throughout the State, primarily through interlibrary loan of materials and information.


Enoch Pratt Free Library, 400 Cathedral St., Baltimore, Maryland, October 2007. Photo by Diane F. Evartt.

---
The Maryland State Library Network consists of the State Library Resource Center (Enoch Pratt Free Library, Baltimore); 3 regional library resource centers (Eastern Shore, Southern Maryland, Western Maryland); 4 academic libraries lending specialized materials; and more than 125 libraries that fill interlibrary loan requests from their collections.


Pocomoke City Branch, Worcester County Library, 301 Market St., Pocomoke City, Maryland, June 2018. Photo by Diane F. Evartt.

---
As the regional depository for Maryland, Delaware, and the District of Columbia, McKeldin Library at the University of Maryland, College Park, receives all U.S. government publications designated for deposit.


Library, Delaplaine Arts Center, 40 South Carroll St., Frederick, Maryland, August 2018. Photo by Diane F. Evartt.

---
Libraries of Note: Enoch Pratt Free Library, The Johns Hopkins University Libraries (including the George Peabody Library), Maryland State Library for the Blind & Physically Handicapped, Space Telescope Science Institute Library (NASA), Health Sciences & Human Services Library, University of Maryland School of Medicine, and Thurgood Marshall Law Library, University of Maryland School of Law, Baltimore; State Law Library, and Nimitz Library of the U.S. Naval Academy, Annapolis; National Library of Medicine, Bethesda; University System of Maryland Libraries; National Agricultural Library, Beltsville; National Institute of Standards and Technology Standards Research Library, Gaithersburg; National Criminal Justice Reference Service of the National Institute of Justice, Rockville; Library of the National Oceanic and Atmospheric Administration, Silver Spring; and U.S. Bureau of the Census Library, Suitland.

George Peabody Library, East Mount Vernon Place, Baltimore, Maryland, September 2010. Photo by Diane F. Evartt.

---
---
© Copyright September 07, 2018 Maryland State Archives