Topics
The subject card index to the WPA inventories , while apparently losing some cards in the interim between its creation and its filming in the 1980s, is a good place to begin looking for topics (as they were thought of in the late 1930s) relating to the public history of Baltimore.  An additional card index to names in the WPA/HRS inventories was also compiled at the same time as the subject index.  Surnames A-Z have been placed on the Guide (just click on the links to view each letter range). It is not known how complete or comprehensive this index is, but the references to the WPA/HRS year/inventory numbers found in both indexes can be followed to the current arrangement of the papers in record groups utilizing the conversion table, WPA-HRS Record Groups, Baltimore City Archives, 1982 .
Getting to the original records from the subject card index is complicated by the fact that the original WPA arrangement of the loose papers of the city was reorganized into Record Groups.  For example, there are three index cards for 'riots' :
1) bca_m0216-1062

2) bca_m0216-1063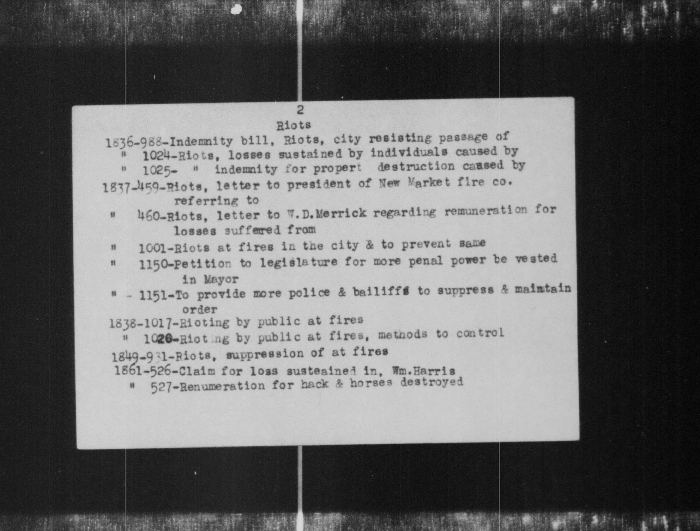 3) ca_m0216-1064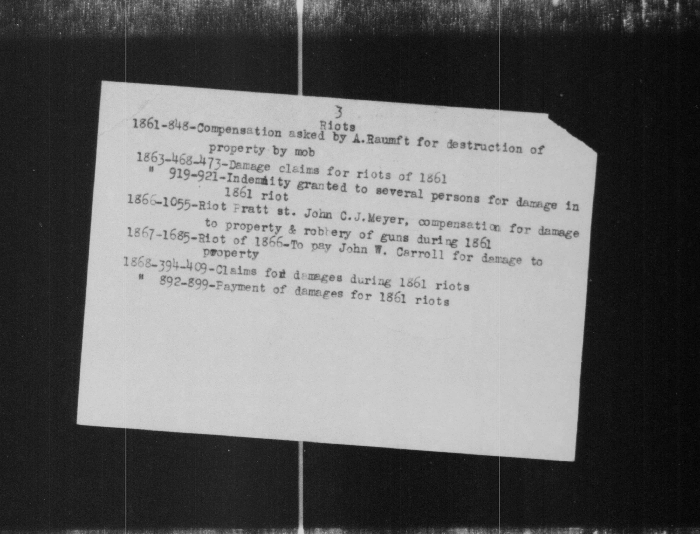 Apart from the anomaly  that the WPA indexers did not seem to think there were any riots before 1835 (Baltimore's reputation as 'mob town' preceded the riots of 1835 by at least 2 decades) or after 1863 (the strike of 1877 is generally referred to as a 'riot' in its later phases), these documents are scattered now over several record groups.  Take for example the 1835/38 documents which, along with the rest of the documents on the index cards, are cross referenced in WPA-HRS Record Groups, Baltimore City Archives, 1982:
1835/38 documents: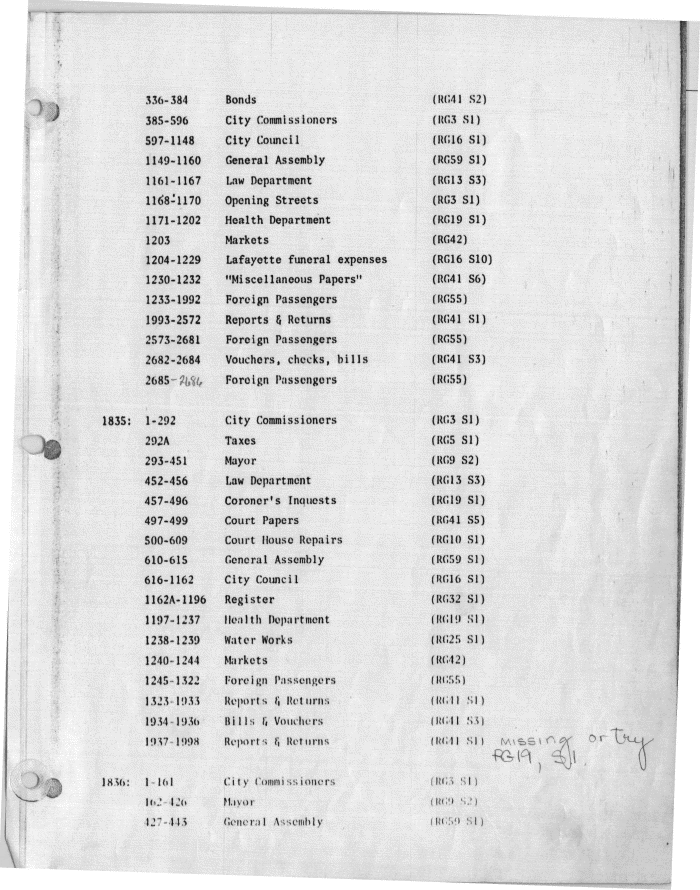 To see the original documents, add the year and reference number to the record group and series, and request the item(s).  For example, the 1835 Mayors communication concerning restoration of tranquility would be retrieved by using this citation at the City Archives:  BRG16 S1 HRS860 (1835).
The typescript inventories of Baltimore City Records prepared by the Historical Records Survey in the late 1930s are to be found in the Maryland State Archives Guide to Government Records, MSA CE 40 .