---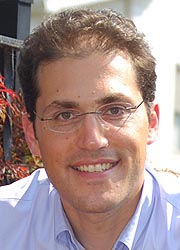 JOSHUA J. COHEN
Mayor of Annapolis (Democrat), 2009-13

Mayor of Annapolis, December 7, 2009 to December 2, 2013.

Member, Annapolis City Council, representing Ward 8, 2001-06. Member, Annapolis Recreation and Parks Advisory Board; Annapolis and Anne Arundel County Joint Transit Advisory Committee.

Member, County Council, Anne Arundel County, representing Councilmanic District 6, December 2006 to December 6, 2009. Resigned December 6, 2009.

Vice-Chair, Baltimore Regional Transportation Board, 2012-13.

---
Trainer, Police and Correctional Training Commissions, 2001-04, and Parole and Probation Officer, Department of Public Safety and Correctional Services, 2004-06. Chief Administrative Officer, Department of General Services, 2013-15.

Born in Annapolis, Maryland, May 31, 1973. Attended Key School, Annapolis; University of Maryland, College Park, B.A. (economics), 1995; University of Baltimore. Program Director, Maryland Crime Victims' Resource Center, 2006-09. Board of Directors, Eastport Civic Association. Past chair, GreenScape, 1997-98; OIC Job Readiness Center. Chair, Annapolis Democratic Central Committee, 1997-99. Advisory Board, Faces of Valor USA, 2008-. A "founding father" and former "premier", Maritime Republic of Eastport. Married; two children.
---
Search the Manual
e-mail: mdmanual@maryland.gov