---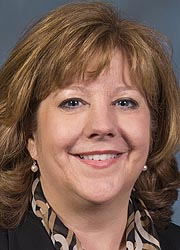 KATHERINE BEANE HAGER, Clerk of Circuit Court (Republican)
---
Clerk of Circuit Court, Queen Anne's County, since December 4, 2018. Chief Deputy Clerk, Queen Anne's County, 2006-18. Member, Conference of Circuit Court Clerks, 2008-16, 2018- (vice-chair, 2020; chair, 2021). Member, Court Technology Committee, Judicial Council, 2019-20 ((noncase record technology subcommittee, 2009-20; casesearch committee). Member, Judicial Council, 2020-, and Major Projects Committee, 2021-, Maryland Judicial Conference. Member, Conference of Circuit Court Administrators, 2020-; Conference of Circuit Judges, 2021-; Judicial Ethics Committee, 2021-.

Deputy Clerk, 1996-2005, and Chief Deputy Clerk, 2005-06, Circuit Court, Howard County.

Deputy Clerk, Circuit Court, Bedford County, Virginia, 1993-95.

Born in Newport News, Virginia. Lynchburg College, B.A. (sociology), 1994. Certified in judicial administration, Michigan State University. Member, Maryland Circuit Court Clerks' Association, 2004- (secretary, 2009-11; president, 2011-13; president-elect, 2019; president, 2020); Mid-Atlantic Association for Court Management, 1999-; National Center for State Courts; Institute for Court Management.. Member, Queen Anne's County Drug Free Coalition; Chesapeake Republican Club; Centreville Rotary Club. Member, Centreville United Methodist Church, Centreville, Maryland. Married; one child.
---
Search the Manual
e-mail: mdmanual@maryland.gov
© Copyright November 21, 2022 Maryland State Archives