---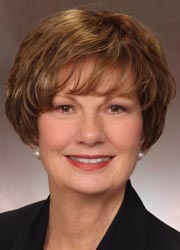 LORETTA E. KNIGHT
Clerk of Circuit Court (Democrat), 2006-14

Clerk of Circuit Court, Montgomery County, December 1, 2006 to December 1, 2014; Deputy Clerk and Manager, Civil Division, 1990-2006. Member, Conference of Circuit Court Administrators, 2011-13. Chair, Conference of Circuit Court Clerks, 2013-14 (vice-chair, 2011-13). Member, Judicial Council, 2013-14, Maryland Judicial Conference.

Member, Criminal Justice Coordinating Commission, Montgomery County, 2006-14; Maryland Security Advisory Board, Office of Emergency Management and Court Security, 2009; Maryland Access to Justice Commission, 2013-14 (critical barriers committee, 2010-14).

---
Born in Washington, DC, October 18, 1942. Attended Northwood High School, Silver Spring; Washington School for Secretaries. Advisory Board, Mid-Atlantic Association of Court Management, 2006-. President, Maryland Circuit Court Clerks' Association, 2011-13. Member, Northern Montgomery Women's Democratic Club; Montgomery County Agricultural Center; National Association for the Advancement of Colored People (NAACP). Past member, Germantown Citizens Association. Past volunteer, American Red Cross Emergency Relief. Past coordinator, Maryland Charity Campaign. Member, Grace United Methodist Church (administrative board; staff parish relations committee). Married; three children, four grandchildren.
---
© Copyright September 29, 2015 Maryland State Archives