---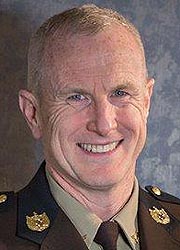 WILLIAM J. MCMAHON, Sheriff (Republican)



---
Sheriff, Howard County, since November 30, 2016. Member, Human Trafficking Coordinating Council, Howard County, 2016-.

Police Officer, Maryland-National Capital Park and Planning Commission, 1984-86; Howard County Police Department, 1986-2006.

Chief of Police, Howard County, 2006-14. Member, Maryland Alcohol Safety Action Program Committee, 2009-10; Police Training Commission, 2012; Governor's Vehicle Theft Prevention Council, 2012; Human Trafficking Task Force, Howard County, 2014.

Acting Executive Director, Police and Correctional Training Commissions, Department of Public Safety and Correctional Services, 2016 (director, leadership development institute, 2015).

Born in Washington, DC, September 18, 1962. University of Maryland, College Park, B.A. (criminal justice), 1983; The Johns Hopkins University, M.A.S. (management), 1994. Member, Maryland Chiefs of Police Association, 2000- (president, 2011-12); International Association of Chiefs of Police. Board of Directors, Howard County Domestic Violence Center (now HopeWorks), 2005-07. Member, FBI National Academy Alumni Association, 2005-. Member, Police Executive Research Forum, 2006-; Maryland Sheriff's Association, 2016-; National Sheriff's Association, 2016-.
---
© Copyright February 12, 2018 Maryland State Archives