---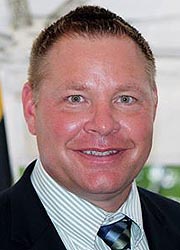 GEORGE C. PATCHELL
Member, County Council (Republican), 2014-22

Member, County Council, Cecil County, representing District 4, December 1, 2014 to December 5, 2022.

Member, Board of Health, Cecil County, 2014-22; Advisory Board, Mental Health Core Service Agency, Cecil County, 2015-22; Parks and Recreation Board, Cecil County, 2015-22. Former co-chair, Local [Video Lottery] Development Council, Cecil County.

Member, Upper Shore Regional Council, 2015-22 (secretary, 2016).

---
Attended Perryville High School, Perryville, Maryland; Millersville University, B.S. Executive Director, Young Men's Christian Association (YMCA) of Cecil County, Inc., 1997-. Board of Directors, Lower Susquehanna Heritage Greenway; Maryland State Athletic Hall of Fame, 2013-14. Member, Cecil County Firemen's Association. Member, Rotary Club of North East (past president). Married; two sons.
---
Search the Manual
e-mail: mdmanual@maryland.gov
© Copyright December 22, 2022 Maryland State Archives