---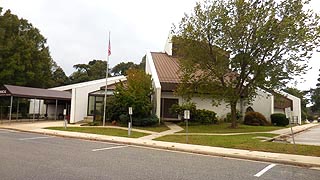 In Maryland's twenty-three counties and Baltimore City, each local governing body designates an agency on aging. The agency may be a unit of local government or a private, nonprofit corporation. In some counties, it is the office on aging. In others, it may be named differently. In Baltimore City, it is called the Division of Aging and Care Services.


Pascal Senior Activity Center, 125 Dorsey Road, Glen Burnie (Anne Arundel County), Maryland, October 2018. Photo by Diane F. Evartt.

---
Local agencies on aging provide a variety of adult services, incorporating assisted living; protective services; and temporary disability programs. Transportation services for seniors and people with disabilities also are provided at the county level through either a division of the aging department, or by a separate transportation department.


Waxter Center for Senior Citizens, 1000 Cathedral St., Baltimore, Maryland, December 2008. Photo by Diane F. Evartt.

---
Senior Center, 9010 Chesapeake Ave., North Beach (Calvert County), Maryland, April 2010. Photo by Diane F. Evartt.

---
---

Thurmont Senior Center, 805 East Main St., Thurmont (Frederick County), Maryland, August 2006. Photo by Diane F. Evartt.

---