GOVERNOR-ELECT'S TRANSITION TEAM, 2014
---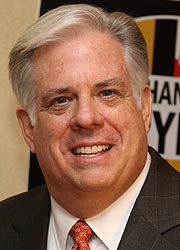 Lawrence J. Hogan, Jr., Governor-elect
Boyd K. Rutherford, Lt. Governor-elect
Transition Office of Governor-elect Lawrence J. Hogan, Jr.
580 Taylor Ave., Annapolis, MD 21401
(410) 260-8025
e-mail: info@hoganforgovernor.com

---
TRANSITION TEAM
James T. Brady, Co-Chair
Boyd K. Rutherford, Co-Chair
Rev. Eric D. Barksdale; Joseph Bartenfelder; C. Gail Bassette; Anirban Basu; Juliette B. Bell, Ph.D.; Mark J. Belton; Helen Delich Bentley; Luis Borunda; Timothy E. Braue; David R. Brinkley; Elise A. Butler; Roger A. Campos; David R. Craig; A. Hugo DeCesaris; Col. Douglas DeLeaver; Douglas M. Duncan; Charles C. G. Evans, Jr.; James D. Fielder, Jr., Ph.D.; Bryant F. Foulger; William L. (Lee) Gaines, Jr.; Joseph M. Getty; Nancy S. Grasmick, Ph.D.; Jeannie Haddaway-Riccio; Stephen H. Hershey, Jr.; Kenneth C. Holt; Kevin Igoe; Blair Lee IV; Matthew D. Lee, Ph.D.; Rose Maria Li, Ph.D.; Martin G. Madden; Samir Malhotra; Gary L. Mangum; Steven J. McAdams; Roy C. McGrath; C. Anthony Muse; Robert R. Neall; Russell A. Neverdon; Stephen L. Pattison; Sharon R. Pinder; Justin D. Ready; Alfred W. Redmer, Jr.; Jimmy H. Rhee; Ellen R. Sauerbrey; Kelly M. Schulz; Christopher B. Shank; Chong Nak Son; Christopher B. Summers; Alexander Williams, Jr.; Craig A. Williams, Ph.D.; Garland O. Williamson; John C. Wobensmith; Benjamin H. Wu, Esq.

The Governor-elect's Transition Team was appointed by the Governor-elect in November and December 2014.
BUSINESS REGULATIONS REVIEW
Edward M. Dunn; Abba D. Poliakoff; James A. Soltesz.

PERSONNEL REVIEW
Diane M. Baker; Katja Bullock; Andrea M. Fulton Rhodes.
---
© Copyright September 13, 2017 Maryland State Archives