ORCHESTRAS & MUSICAL ENSEMBLES
---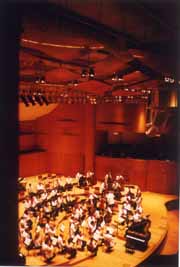 Maryland orchestras most typically are symphony orchestras and they are found around the State. The most notable, of course, is the Baltimore Symphony Orchestra, which performs regularly at the Joseph Meyerhoff Symphony Hall in Baltimore, and the Music Center at Strathmore in Bethesda.

The Baltimore Orchestra first performed in 1890, and continued to function until 1899. Later, it organized in 1916 as a branch of Baltimore municipal government. In 1942, the Orchestra reformed as a private institution.

The Peabody Orchestra formed in 1866. It was the first professional orchestra in Baltimore. The Orchestra disbanded in 1896.


Baltimore Symphony Orchestra, Meyerhoff Symphony Hall, 1212 Cathedral St., Baltimore, Maryland, July 2003. Photo by Diane F. Evartt.

---
Chamber music quartet, Community Concerts at 2nd Presbyterian Church, 4200 St. Paul St., Baltimore, Maryland, November 2019. Photo by Diane F. Evartt.

---
Columbia Orchestra, Columbia
Frederick Symphony Orchestra, Frederick
Hunt Valley Symphony Chorale, Hunt Valley
Howard County Concert Orchestra, Ellicott City
Londontowne Symphony Orchestra, Edgewater
Maryland Classic Youth Orchestras, North Bethesda
Maryland Symphony Orchestra, Hagerstown
Maryland Youth Symphony Orchestra, Catonsville
Mid-Atlantic Symphony Orchestra, Ocean City
Montgomery Philharmonic, Rockville
National Philharmonic Symphony Orchestra, North Bethesda
NIH Community Orchestra, Bethesda
Pro Musica Rara, Baltimore
Salisbury Symphony Orchestra, Salisbury
Susquehanna Symphony Orchestra, Fair Hill
Symphony Number One, Baltimore
Symphony of the Potomac, Glen Echo
---
Search the Manual
e-mail: mdmanual@maryland.gov
© Copyright April 14, 2022 Maryland State Archives