PUBLIC SAFETY
---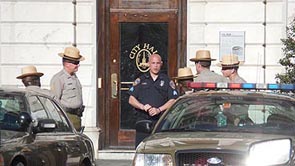 In Maryland, public safety is the responsibility of the Department of Emergency Management, the Department of State Police, the Department of Public Safety and Correctional Services, the Military Department, and local public safety agencies. At the same time, safeguarding public safety also is a vital duty of the Department of the Environment, and the Maryland Department of Health.


State Police, City Hall, Baltimore, Maryland, May 2015. Photo by Diane F. Evartt.

---
The Department of State Police is charged to safeguard the lives of all Marylanders, protect property, and assure equal protection under the law to all. This includes: preserving the public peace; detecting and preventing crime; enforcing State and local laws; apprehending and arresting criminals and those accused of breaking the law; maintaining public order; ensuring traffic safety and flow; cooperating with other law enforcement agencies; and investigating deaths of inmates from the Division of Correction when murder is suspected. Further, the Department is responsible for laws governing the sale of handguns, licensing and oversight of private detective agencies; certification of private detectives and security guards; registration of eavesdropping and wiretapping devices; and inspection of some commercial vehicles.

Other executive departments maintain police departments. The Maryland Capitol Police of the Department of General Services provides security at State buildings in Annapolis and Baltimore, and may enforce laws and make arrests within 1,000 feet of those buildings and grounds. The Natural Resources Police Force of the Department of Natural Resources is the State's oldest law enforcement agency, with statewide jurisdiction to enforce conservation, boating and criminal laws. Moreover, the Department of Transportation supervises two police forces, the Maryland Transit Administration Police, and the Maryland Transportation Authority Police.
---
Not all Maryland counties have local police departments. In those that do, the police department is the county law enforcement agency. In others, local departments of public safety may oversee responsibilities for animal control, corrections (detention centers), emergency services, fire, and police.

Caroline County Department of Corrections, Andrew Building, 101 Gay St., Denton, Maryland, August 2016. Photo by Diane F. Evartt.

---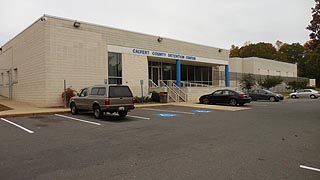 With a county or municipality, the Department of State Police may enter into an agreement to provide some or all local police functions. In counties without a local police department, the Sheriff serves to enforce the laws.
Calvert County Detention Center, 325 Stafford Road, Barstow, Maryland, November 2017. Photo by Diane F. Evartt.

---
---
Search the Manual
e-mail: mdmanual@maryland.gov
© Copyright March 11, 2022 Maryland State Archives