Chesapeake & Ohio (C&O) Canal
formerly linked Georgetown in the District of Columbia and Cumberland, Maryland Lock 5, Chesapeake & Ohio (C & O) Canal, Potomac, Maryland, April 2001. Photo by Ann J. Baker.

---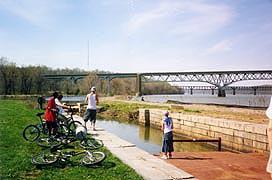 Young fishermen, Southern Terminus, Susquehanna & Tidewater Canal, Havre de Grace, Maryland, April 2005. Photo by Diane F. Evartt.

---
In the first half of the 19th century, Maryland increased economic trade by building four canals. These canals allowed goods arriving in Baltimore Harbor to be shipped quickly into Pennsylvania and western Maryland. They also created a direct route from Baltimore east to the Atlantic. Though three canals maintain partial operation, only the Chesapeake and Delaware Canal remains open to shipping.

CHESAPEAKE & DELAWARE (C&D) CANAL
One of only two canals still commercially active in the United States, the Chesapeake and Delaware Canal was first authorized by Congress in 1802, and connects upper Chesapeake Bay with Delaware Bay. Although construction began in 1804, it was halted in 1806 due to a lack of funding. Not until 1824 did construction resume, and in 1829 was completed.

In 1906, President Theodore Roosevelt appointed a commission to establish the feasibility of converting the canal to service larger steam ships. The federal government purchased the Canal in 1919, dredged and restructured it, and, in 1927, reopened it to commercial traffic. The Canal underwent further expansion in 1954, and today provides for 40% of the ships seeking access to the Port of Baltimore.

CHESAPEAKE & OHIO (C&O) CANAL
Though never actually reaching Ohio, the Chesapeake and Ohio Canal connects the City of Cumberland in Allegany County, Maryland, with Washington, DC. Chartered in 1825, the Canal measures over 180 miles, and rises more than 600 feet in elevation. Its construction began in 1828, but due to labor and funding problems was not completed until 1850. With budgets exceeding funds, and the Baltimore and Ohio Railroad decreasing the need for the Canal, plans for an Ohio connection never were enacted. Not reaching its intended Ohio markets, the Canal, nonetheless, was able to remain viable by expediting coal, lumber and grain shipments from western Maryland to sites along the Chesapeake Bay.

The Canal ceased operation in 1924. It was purchased by the federal government for use as a Works Progress Administration (WPA) program in 1934, and reopened in 1939 as a public park. In 1971, the Canal was designated a National Historic Park. Today, its entire length is maintained by the National Park Service.

SUSQUEHANNA CANAL
Chartered by the General Assembly in 1783, the Susquehanna Canal Company was authorized to build a canal along the eastern edge of the Susquehanna River from Port Deposit to the present site of the Conowingo Dam (Chapter 23, Acts of 1783). The Susquehanna Canal also was known as the Conowingo Canal, or Port Deposit Canal.

Although initially planned to eventually connect with the Erie Canal, the Susquehanna Canal never extended into Pennsylvania due to financial and political impediments. Construction was slow going, and the Canal's original length too shallow for boats, limiting travel to barges and rafts. Yet the Canal's waters were not deepened or expanded, and the Canal never proved profitable. In 1817, it was auctioned off.

In 1840, when the Susquehanna and Tidewater Canal opened on the west bank of the Susquehanna River, the Susquehanna Canal closed completely.

SUSQUEHANNA & TIDEWATER CANAL
Construction of the Susquehanna and Tidewater Canal began in 1836. Operated from 1840 to 1894, the Canal linked Havre de Grace, Maryland, to the Pennsylvania Canal at Wrightsville, Pennsylvania. A relatively short expanse, the Susquehanna and Tidewater Canal stretched only 43 miles, yet it encompassed 29 locks. These locks were necessary to allow Canal boats to rise more than 230 feet in elevation in order to connect with the Pennsylvania Canal.

Only small remnants of the Canal's original structure remain. The Susquehanna Museum at the Lock House maintains the original Lock House at Havre de Grace, while remains of the Canal may be visited at Susquehanna State Park in Harford County. At the Park, the old towpath now is a hiking trail.

Search the Manual
e-mail: mdmanual@maryland.gov

© Copyright March 11, 2022 Maryland State Archives