Major Employers by State & County
Approximately 81.6% of those working in Maryland are employed by the private sector, while federal, State, county and municipal governments employ 18.4% of the workforce.

Under Armour Global Headquarters (left), 1020 Hull St., Baltimore, Maryland, June 2019. Photo by Diane F. Evartt.
Under Armour Headquarters (right), 1020 Hull St., Baltimore, Maryland, April 2015. Photo by Sarah A. Hanks.

---
The Department of Defense maintains a large presence in Maryland. There are 350 research centers, 20 military facilities, more than 60 federal civilian agencies, 74 laboratories, and 15 of the nation's top 20 aerospace and defense firms. The Department of Defense employs more than 400,000 workers with over $20 billion in total wages. The largest employer in Maryland is Fort George G. Meade with over 50,000 employees. The military industry generates over $57 billion and constitutes one-fifth of Maryland's total output.
---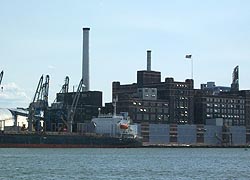 In 2018, the University System of Maryland was the largest private employer in Maryland. The System employs 39,900 faculty and staff. Other leading employers in the State include University of Maryland Medical System; The Johns Hopkins University; Johns Hopkins Hospital and Health System; MedStar Health; and Marriott International.




Domino Sugar plant and cargo ship, Baltimore, Maryland, April 2015. Photo by Sarah A. Hanks.

---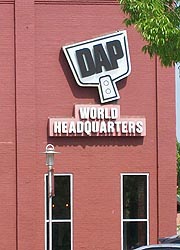 In 2018, Maryland had more than 172,000 businesses that employed over 2.6 million workers with an annual payroll of over $163 billion. Corporate headquarters of well-known businesses, such as McCormick, Lockheed Martin, Under Armour, DAP, Phillips Seafood, T. Rowe Price, and Goetze's Candy are located in Maryland.

Financial services is a growing sector in the Maryland economy. Brokerage firms, insurers, and other financial companies maintain their home operations or a significant presence in the State.

In 2018, government employees in Maryland numbered 489,102. Of these, 144,948 were federal workers, 99,857 worked for State government, and 244,297 were employed by county and municipal governments.


DAP world headquarters, Baltimore, Maryland, May 2015. Photo by Sarah A. Hanks.

---
---
© Copyright September 26, 2019 Maryland State Archives