HISTORICAL CHRONOLOGY
---
1657. First European inhabitants recorded on Smith Island.

1662. Treaty with Nanticoke.

1663, Feb. 10. Benjamin Somers (Summers) patented land tract called Emessex, which later formed part of Somers Cove.

1666, Aug. 22. Somerset County established by order in council; named for Lady Mary Somerset, sister of Lady Anne Arundell, who was the wife of Cecilius Calvert, 2nd Lord Baltimore.

1675. Courthouse erected at Ilchester.

1683. New Courthouse called Unity on south side of Manokin River.

1686. Snow Hill founded.

1694, March 1. Land purchased to build a Courthouse at Dividing Creek.

1732. Salisbury founded.

1733. Princess Anne founded.
---
1741, April 17. Samuel Chase (1741-1811), signer of Declaration of Independence, born near Princess Anne.

1742. Worcester County erected from Somerset County.

1747, June. First Courthouse at Princess Anne completed.

1757, Sept. 4. Levin Winder (1757-1819), Governor of Maryland, born near Quantico.

1767. Somerset Academy founded at Back Creek, Westover.

1777, Feb. 6. Continental Congress, sitting in Baltimore, ordered Baltimore Town Battalion of militia to Eastern Shore, to suppress loyalist activities in Somerset and Worcester Counties.

Samuel Chase (1741-1811), by John Beale Bordley, 1836. (MSA SC 1545-1115). Courtesy of Commission on Artistic Property, Maryland State Archives. Chase was one of four Maryland signers of the Declaration of Independence.

---
1779, Nov. Somerset Academy (Back Creek Academy) renamed Washington Academy.

1782, Nov. 30. Commodore Zedekiah Whaley and naval militia fought British naval forces in Battle of Kedges Strait (Battle of the Barges), located between Smith Island and South Marsh Island.

1793, April 29. Thomas King Carroll (1793-1873), Governor of Maryland, born at Kingston Hall.

1802-19. Teackle Mansion, home of Littleton Dennis Teackle, constructed.

1813. Littleton Dennis Teackle founded Bank of Somerset.

1815, Aug. 29. Anna Ella Carroll (1815-1894) born at Kingston Hall.

1831. First Courthouse at Princess Anne destroyed by fire; court temporarily held in former Teackle bank building.

1833. Second Courthouse at Princess Anne completed.

1854. Chesapeake Bay survey revealed large number of oyster beds near Somers Cove in Tangier Sound.

1866, Nov. 4. First train of Eastern Shore Railroad - Crisfield Branch arrived at Somers Cove.

1867. Wicomico County formed from parts of Somerset and Worcester counties.

1872. Crisfield incorporated.

1884. The Entailed Hat or Patty Cannon's Times: A Romance, by George Alfred Townsend, published (partly set in Princess Anne).

1886, Sept. 13. Delaware Conference Academy for Negroes, later called Princess Anne Academy, established at Princess Anne by Centenary Biblical Institute.

1889, Feb. 12. Harry C. (Curley) Byrd (1889-1970), University of Maryland President, 1936-54, born in Crisfield.

1894. Princess Anne incorporated.

1894, May 8. J. Millard Tawes (1894-1979), Governor of Maryland, born in Crisfield.

1894, June 8. Isaac Kemp lynched in Princess Anne.

1897, June 9. William Andrews lynched in Princess Anne.
---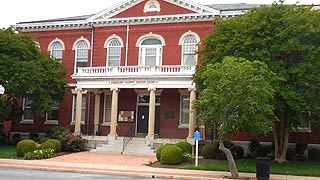 1905. Third Courthouse at Princess Anne completed.

1906, July 26. William Lee lynched in Crisfield.

1907, July 28. James Reed lynched in Crisfield.

1908. First hospital in County opened at Marion Station.

Somerset County Circuit Court, 30512 Prince William St., Princess Anne, Maryland, May 2017. Photo by Diane F. Evartt.

---
1910. Crisfield Library organized.

1910. General and Marine Hospital opened in Crisfield (dedicated June 30, 1909).

1911. Strawberry auction started at Marion Station.

1914. Princess Anne Library opened in railway station.

1917. First agricultural show in County held at Courthouse.

1923. Crisfield Library moved to new City Hall.

1923, May 6. Edward W. McCready Memorial Hospital opened in Crisfield.

1927. Crisfield Armory constructed.

1928, March 29. Great Fire of Crisfield.

1930, May 29. Lilyan Stratton Corbin Memorial Library dedicated in Crisfield.

1933, Oct. 18. George Armwood lynched in Princess Anne.

1933, Nov. 28. National Guard ordered to Princess Anne following arrests of men in death of George Armwood.

1935. State of Maryland bought Princess Anne Academy from Morgan College, formerly Centenary Biblical Institute.

1936. Princess Anne College, formerly Princess Anne Academy, placed under University of Maryland, College Park.

1948. Princess Anne College renamed Maryland State College.

1954. Glenn Martin National Wildlife Refuge established at Smith Island.

1954, Oct. 15. Hurricane Hazel flooded Crisfield.

1959. Princess Anne Library moved to new building.

1960. Somerset County Historical Society formed.

1961, Dec. 24, 29. Sit-ins at Crisfield organized by Baltimore Civic Works Group, including Morgan State College students.

1967. Somerset County Library System organized following consolidation of Crisfield and Princess Anne Libraries' Boards of Trustees. Ewell Branch added later.

1969. County public schools desegregated.

1970. Maryland State College reorganized as University of Maryland Eastern Shore.

1977. Crisfield Heritage Foundation formed.
---
1987. Eastern Correctional Institution opened at Westover.

1988. Current Princess Anne Library dedicated.

1988. University of Maryland Eastern Shore placed under University System of Maryland.

2004, March 2. Electronic voting system used during primary elections at polling places and for absentee ballots in all counties and Baltimore City.

Eastern Correctional Institution, 30420 Revells Neck Road, Westover, Maryland, May 2017. Photo by Diane F. Evartt.

---
2012, Oct. 29-30. Hurricane Sandy flooded Crisfield; Maryland National Guard called out to assist residents.

2016, June 4. Current Crisfield Library dedicated.
---
Search the Manual
e-mail: mdmanual@maryland.gov
© Copyright November 04, 2022 Maryland State Archives