---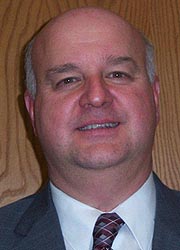 JAMES M. RALEY
Member, Board of County Commissioner (Republican), 2010-14

Member, Board of County Commissioners, Garrett County, representing District 2, December 14, 2010 to December 9, 2014 (chair, Dec. 13, 2011 to Dec. 18, 2012).

Member, Board of Education, Garrett County, 1997-2010; Student Behavior Intervention Task Force, 2002; Board of Health, Garrett County, 2010-14; Youth Centers Advisory Board, 2010-; Marcellus Shale Safe-Drilling Initiative Advisory Commission, 2011-15. Secretary-Treasurer, Tri-County Council for Western Maryland, 2014 (secretary-treasurer, 2011; vice-chair, 2011-12; executive committee, 2011-14; chair, 2013). Member, Maryland Agricultural Certainty Oversight Committee, 2013-; Citizens Advisory Board, Thomas B. Finan Hospital Center, 2015-.

---
Born in Cumberland, Maryland, November 2, 1958. Executive Director, Office of Consumer Advocates, 2014-. Former Vice-Principal, Mt. Savage Middle School. Former teacher, Garrett and Allegany counties. Past President, Association of Public School Administrators and Supervisors of Allegany County; Garrett County Education Association. Past member, Maryland Association of Boards of Education (budget & planning committee). Member, Legislative Committee, Maryland Association of Counties, 2011-. President, Eastern Garrett County Volunteer Fire and Rescue Department. Vice-President, Eastern Garrett Park and Recreation Association. Past president, Garrett County Volunteer Fire and Rescue Association. Married; two children.
---
© Copyright October 01, 2015 Maryland State Archives