---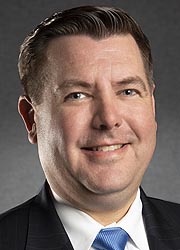 GILBERT OBIE (B. J.) BOWLING III, Member, Board of County Commissioners (Democrat)
---
Member, Board of County Commissioners, Charles County, representing District 1, since December 4, 2018.

Member, Board of Health, Charles County, 2018-; Board of Fire and Rescue Commissioners, 2019-.

Chair, Tri-County Council for Southern Maryland, 2020-21 (member, 2019-; 2nd vice-chair, 2019-20).

Member, Agricultural Land Preservation Board, Charles County, 2010-18.

Assistant Commander, Landover Station, Prince George's County Police Department, 2000-.

College of Southern Maryland, A.A. (criminal justice), 1999. Farmer, Bowlings Newport Valley Farm, 1997-. Chair, Charles County Democratic Central Committee, 2014-17. Vice-President, Charles County Farm Bureau, 2014-18. Chair, Board of Directors, United Way of Charles County, 2016-18. Married; two children.
---
© Copyright February 08, 2021 Maryland State Archives