---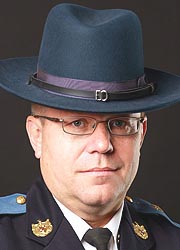 DONALD L. BAKER, JR., Sheriff (Republican)
Office of Sheriff
Caroline County Detention Center, 101 Gay St., Denton, MD 21629
(410) 479-4120; fax: (410) 479-3956
e-mail: dbaker@carolinemd.org
---
Sheriff, Caroline County, since December 2022. Former Deupty Sheriff, Caroline County. Commander, Criminal Investigation Division, Sheriff's Office, 2012-22.

Member, Drug and Alcohol Abuse Council, Caroline County, 2022-.

Wilmington University, B.S. (criminal justice). Charter member, Fraternal Order of Police, Lodge no. 118, Denton (past president). Coach, Caroline County Youth Soccer Association (board of directors); Character Counts, Caroline County Public Schools. Member, St. Luke's United Methodist Church, Denton, Maryland. Married; two children.
---
Search the Manual
e-mail: mdmanual@maryland.gov
© Copyright March 30, 2023 Maryland State Archives