PRESIDENT
---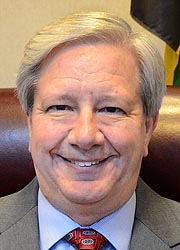 EVAN K. SLAUGHENHOUPT, JR., President, Board of County Commissioners (Republican)
---
President, Board of County Commissioners, Calvert County, since December 19, 2017 (member since Dec. 7, 2010, & representing District 3 since Dec. 16, 2014; vice-president, Dec. 16, 2014 to Dec. 22, 2015 & Jan. 10, 2017 to Dec. 19, 2017; president, Dec. 22, 2015 to Jan. 10, 2017).

Member, Ethics Commission, Calvert County, 2005-08; Board of Health, Calvert County, 2010-; Tri-County Council for Southern Maryland, 2010-.

University of Maryland, B.S. (geography); National Military Intelligence College, M.S. (strategic intelligence). Served in U.S. Air Force, 1971-74. Systems engineer with major aerospace corporation. Board of Directors, Maryland Association of Counties, 2014- (legislative committee, 2011-). Member, Chesapeake Bay Foundation; Dunkirk Area Concerned Citizens Association (past president); Maryland Taxpayers Association; National Rifle Association; Stallings-Williams American Legion Post no. 206, Chesapeake Beach. Associate member, League of Women Voters of Calvert County. Regimental historian, Civil War 103rd Pennsylvania Infantry. Volunteer, Calvert County Special Olympics. Member, Friendship United Methodist Church, Friendship, Maryland. Married; one child.
---
© Copyright December 20, 2017 Maryland State Archives