---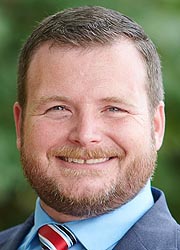 PATRICK G. YOUNG, JR., Member, County Council (Democrat)
---
Member, County Council, Baltimore County, representing Councilmanic District 1, since December 5, 2022.

Member, Critical Area Commission for the Chesapeake & Atlantic Coastal Bays, 2023-.

Member of House of Delegates, January 14, 2015 to December 2022. Deputy Majority Whip, 2017-22. Member, Appropriations Committee, 2015-22 (health & human resources subcommittee, 2015-17; oversight committee on pensions, 2015-18; health & social services subcommittee, 2017-22; chair, oversight committee on personnel, 2019-22, vice-chair, 2019; member, capital budget subcommittee, 2020-22); Regional Revitalization Work Group, 2015-19; Special Joint Committee on Pensions, 2016-22; Joint Committee on Legislative Information Technology and Open Government, 2017-22. House Chair, Joint Committee on the Management of Public Funds, 2019-22; Joint Committee on Cybersecurity, Information Technology, and Biotechnology, 2021-22. Chair, Baltimore County Delegation, 2018-22. Member, Maryland Legislative Transit Caucus, 2019-22. House Chair, Maryland Veterans Caucus, 2022 (vice-chair, 2016-21).

Member, Maryland Medicaid Advisory Committee, 2015-22; Maryland Veterans Trust, 2017-22.

Member, Maryland Veterans Commission, 2009-16; Institutional Review Board, University of Maryland, College Park, 2010-15.

Born in Catonsville, Maryland, 1983. Attended Mount St. Joseph High School, Baltimore, Maryland. Served in U.S. Marine Corps Infantry, 1st Battalion, 8th Marine Regiment, 2001-05 (combat tours in Iraq; humanitarian mission in Liberia). Attended American University, Rome, Italy; Towson University, B.S. (political science, religious studies & philosophy), 2010; University of Baltimore, graduate studies (public administration). Director, Department of Veterans Services, Towson University. 2010-16. Founder, The Rostrum (for job placement of veterans), 2016-. Board of Directors, The 6th Branch (veteran-led community service organization), Baltimore, 2008-. Member, National Eagle Scout Association, 2010-. Co-Chair, Maryland College Collaboration for Student Veterans, 2010-15. Leadership Baltimore County, 2014. Volunteer Service Award, Towson University Alumni Association, 2013. Married; one child.
---
Search the Manual
e-mail: mdmanual@maryland.gov
© Copyright July 20, 2023 Maryland State Archives