---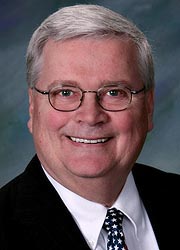 JAMES J. STAKEM
Member, Board of County Commissioners (Democrat), 1998-2010

President, Board of County Commissioners, Allegany County, December 2002 to December 16, 2010 (member, 1998-2010).

Member, Human Resources Development Commission, Allegany County. Member, Cumberland Area Metropolitan Planning Organization, 1998-2010 (president, 2002-10); Western Maryland Economic Development Task Force, 1998-2002; Tri-County Council for Western Maryland, 2001-10 (chair, 2006-07, 2009); Youth Centers Advisory Board, 2002-10. Chair, Maryland Rural Broadband Coordination Board, 2009-10 (member, 2006-07, 2009-10). Member, State Lottery and Gaming Control Commission, 2013-. Former member, Governor's Flood Mitigation Task Force for Western Maryland.

---
Frostburg State College, B.S., 1963, M.Ed., 1967. Former teacher. Member, Maryland Association of Counties (legislative committee; education subcommittee); Rocky Gap Foundation; Cumberland Summer Theatre Committee; Seniors and Law Enforcement Together; Fraternal Order of Police; Moose; Eagles; Knights of Columbus; Elks. Married; three children, six grandchildren.
---
Search the Manual
e-mail: mdmanual@maryland.gov
© Copyright March 14, 2022 Maryland State Archives