---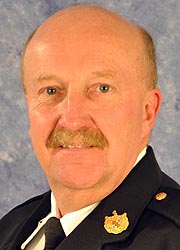 CRAIG A. ROBERTSON, Sheriff (Republican)
---
Sheriff, Allegany County, since December 2, 2010. Detective, 1990-98, and Operations Supervisor, Office of Sheriff, Allegany County.

Administrator, Detention Center, Allegany County, 2010-. Member, Drug and Alcohol Abuse Council, Allegany County, 2010-; Youth Centers Advisory Board, 2010-; Citizens Advisory Board, Thomas B. Finan Hospital Center, 2015-; Local [Video Lottery] Development Council, Allegany County, 2015-; Maryland Redistricting Reform Commission, 2015-.

Born in Frostburg, Maryland. Attended Valley High School, Lonaconing, Maryland; Allegany Community College, A.A. (criminal justice), 1981; National Academy on Leadership and Management, Federal Bureau of Investigation (FBI), 2000. Police Officer, Cumberland Police Department, 1983-90. Secretary-Treasurer, Maryland Sheriffs' Association, Inc., 2014-. Director, Allegany County Fire Police Association. Member, Lodge no. 90, Cumberland, Fraternal Order of Police; Maryland/Delaware Chapter, FBI National Academy Associates. Life member, Cumberland Outdoor Club. Member, St. Paul's Lutheran Church, Cumberland, Maryland. Governor's Citation (for efforts to end opioid crisis), 2018. Married; three children, two grandchildren.
---
© Copyright March 26, 2018 Maryland State Archives