MARYLAND LONGITUDINAL DATA SYSTEM CENTER
---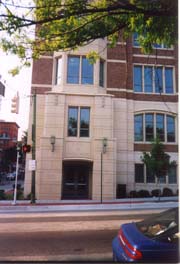 Ross K. Goldstein, Executive Director

550 West Baltimore St., Baltimore, MD 21201
(410) 706-2085
e-mail: mlds.center@maryland.gov
web: https://mldscenter.maryland.gov
---
---

550 West Baltimore St., Baltimore, Maryland, July 2003. Photo by Diane F. Evartt.

---
ORGANIZATIONAL STRUCTURE
MARYLAND LONGITUDINAL DATA SYSTEM CENTER
GOVERNING BOARD
James D. Fielder, Jr., Ph.D., Chair (chosen by Governor)

Appointed by Governor with Senate advice & consent to 3-year terms: Christopher J. Biggs; Maurice A. Good; Steven D. Rizzi; Susan M. Sterett, Ph.D. Terms expire 2022.

Laurie M. Kendall-Ellis. Term expires 2025.

Representative of local superintendent of schools appointed by Governor with Senate advice & consent: Jason Dykstra

Ex officio: Mohammed Choudhury, State Superintendent of Schools; Lourdes R. Padilla, Secretary of Human Services; Sam J. Abed, Secretary of Juvenile Services; Tiffany P. Robinson, Esq., Secretary of Labor; James D. Fielder, Jr., Ph.D., Secretary of Higher Education; Jay A. Perman, M.D., Chancellor, University System of Maryland; David K. Wilson, Ed.D., President, Morgan State University; Brad Phillips, Ed.D., Executive Director, Maryland Association of Community Colleges; Sara C. Fidler, President, Maryland Independent College & University Association.
EXECUTIVE DIRECTOR
Ross K. Goldstein, Executive Director (410) 706-2085
e-mail: ross.goldstein@maryland.gov
---
Search the Manual
e-mail: mdmanual@maryland.gov
© Copyright July 15, 2022 Maryland State Archives